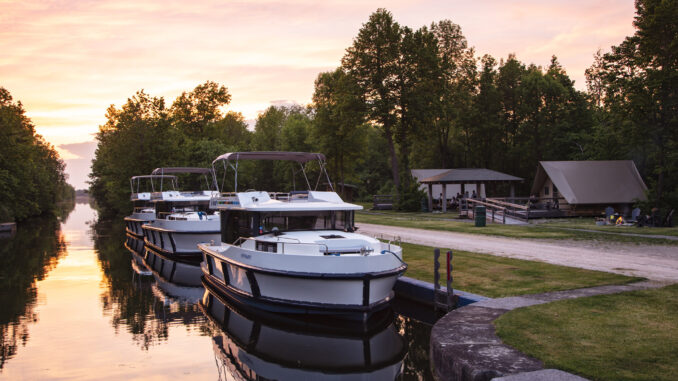 The COVID-19 pandemic has certainly changed the face of travel in 2020 and beyond. As Canada slowly relaxes lifestyle restrictions after months of lockdown and social distancing, many of us will be clawing at the doors for an escape to the great outdoors to breathe in the fresh air, reconnect with nature, and reboot our mind and spirits. I know I will! There is no doubt that the most sought after vacation options will be closer-to-home, easy to access, with an itinerary and pace that is within our own control.
And Le Boat may just be the right answer.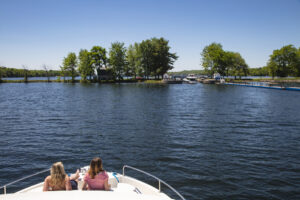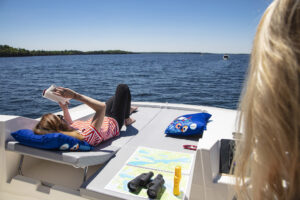 Le Boat has been in operations for 50 years, offering self-drive boat charters in eight European countries. In 2018, the company launched operations in Ontario's Rideau Canal, a UNESCO World Heritage Site. With a base in Smiths Falls, Le Boat allows travelers to pick up a cruiser and head north towards Ottawa, or south to Kingston.
The most appealing aspect of a private boat charter is that Le Boat offers private accommodations and facilities that are not shared with other travellers during your entire holiday. As the captain of your boat, you set your own agenda and pace, covering as much or as little ground (or in this case, water) as you like. And best of all, previous boating experience and a boating license are not required – because you are only renting the vessel.
Along the scenic Rideau Canal, an expansive network of lakes offers endless itinerary options for cruising, fishing, swimming, and watersports, and friendly lockmasters provide full assistance as you transit through the historic locks.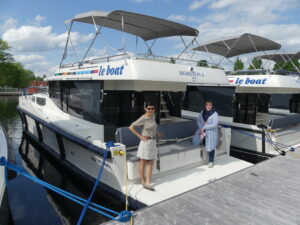 I recently had the opportunity to visit Le Boat's base in Smiths Falls. My host Lisa Mclean - Le Boat's marketing manager for Canada, USA, and Latin America - took me through Le Boat's headquarters and brought me onboard its fleet of cruisers.
Being a non-boater, my first question immediately went to operating the boat, which Mclean was quick to address: "All our boats are very easy to drive. They are completely protected with rubber fenders all around, and the cruising speed has been capped at 10 km per hour. In addition, bow and aft thrusters enable easily maneuvering, turning, and docking. We provide safety videos, full hands-on operations, and safety demonstrations by our staff to make sure you are completely comfortable before taking the boat out. The Parks Canada staff at the lock stations are super friendly and they will practically do all the work for you."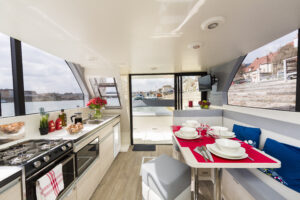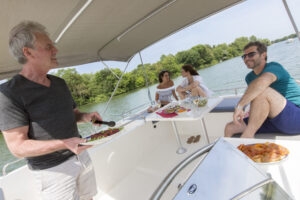 A tour of the vessels proves that Le Boat has indeed thought of everything. Along with bright interiors and a well-designed, functional layout is a kitchen that is equipped with all the cooking, dining, and cleaning needs, and a top deck barbecue. Le Boat commissions newbuilds to be added to its fleet every year, and each generation of new boats comes with enhanced features as suggested from last year's client comments. Since its Canadian debut in 2018, Le Boat cruisers now feature conveniences such as larger fridges with freezers, USB outlets, and expanded sundecks.
With everything supplied, all travellers need to bring are their clothes and food, but for added convenience, Le Boat also offers a grocery stocking service. Other optional add-ons include bike, stand-up paddleboard, and kayak rentals, early check-in or late check-out. Boaters can also bring on a maximum of two pets, with a pet cleaning supplement fee.
And to ensure their guests feel confident about a boating holiday, Le Boat is addressing the health and safety concerns of post-pandemic travel. Following Ontario's new Health and Safety Guidelines, Le Boat has implemented the COVID Safety Charter, with strict measures such as:
Practising social distancing for guest registration at the Smiths Falls base, with all staff wearing personal protective equipment (PPE).
Sending all pre-departure information as well as compulsory safety videos to guests in advance, and processing all payments before arrival.
Conducting onsite boat handling demonstrations and safety briefings by staff wearing PPE.
Deep-cleaning and sanitization of all touchpoints on boats using disinfectant sprays that have been proven to kill the COVID-19 virus.
Washing all linens and towels at high temperatures and handled only by staff wearing PPE.
Le Boat also introduced the Go Boating with Confidence initiative which offers no-fee changes, future cruise credits or full refunds if travellers need to amend their plans due to COVID-19.
If you go:
Le Boat's 2021 Rideau Canal season will operate from May to October.
Premier Horizon cruisers range from two to five bedrooms, accommodating five to twelve people.
The charter period can range from 3-4 days to 10+ days. You set your own itinerary and pace.
For more information, contact your professional travel advisor or visit Le Boat's website.