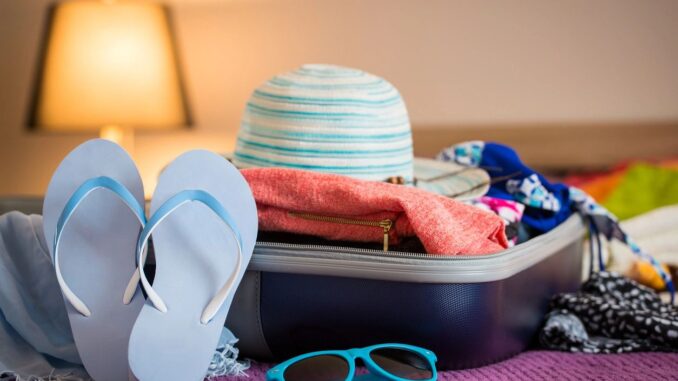 Ahh, packing for a cruise…it's always an exciting ritual for me as it fills me with anticipation of my upcoming days at sea. I've been on enough cruises to have an established packing list so I can usually pack a day or two in advance, but first time cruisers may get a little flustered on what to bring. Let me share my suggestions!
Check the weather
Before packing, I always check the weather of the places that I will be visiting. And right before I pack, I check it again, and make any necessary adjustments to my list. With global warming and changing weather patterns, we can no longer say that summers will always be hot and winters will always be cold, and depending on the geography of the area you are visiting, weather pattern can change rapidly from day to day.
Dress code onboard ships
Dress is casual onboard ships during the day - whatever you normally wear on vacation is fine. Ships do crank up their AC though, so bring an extra layer if you get cold easily.
Most cruise lines have relaxed their dress code in the evenings to resort casual. This means slacks or khakis, collared shirts and close-toed shoes for men. Women can wear dresses, blouse & skirt or pants combination. Shorts, t-shirts, jeans, runners and flip flops aren't appropriate in the evenings, although some cruise lines do allow dark coloured jeans (but not the fashionable "torn" kind).
On a one-week cruise, men can pack just two or three pairs of slacks to mix and match with different shirts, and one pair of dark dress shoes. For women, matching different tops and bottoms to create different outfits will maximize the use of each piece. A classic pair of heels, and dressy flats will do the trick. If you have to repeat an outfit, wear them as far apart as possible – such as on the first night and the last night of the cruise. In all honesty, people won't remember what you wore anyway!
If there are formal nights on the cruise, a dark suit, or sports jacket and tie for gentlemen is fine. Ladies can wear cocktail dresses or blouse & skirt combo - adding sparkly jewellery also dresses up an outfit. If you have a tuxedo or ball gown, or love to dress up, go ahead and bring your fancy duds, but it certainly is not necessary to go out and buy them (although it is a good excuse to go shopping!).
Dress code ashore
Pack according for the activity you will be partaking, and pay attention to the terrain. Going hiking, walking on cobblestones, or heading to the beach will call for different footwear. If visiting places of worship, there will be rules about covering shoulders and knees. Observe the rules of countries that have modest dress code.
For warm weather cruising
Pack your shorts, t-shirts and flip flops, sandals, sunglasses, sunscreen and hat. No need to bring beach towels as the ship will provide them. You'll need a bathing suit cover-up when passing through interior spaces of the ship. Pack reef shoes for the beach, and an old bed sheet can double as a beach blanket if you want to spread out.
For cold weather cruising
If your cruise takes you to Alaska, Norwegian Fjords, and other northern destinations, bring a wind and/or waterproofed jacket. I would also recommend gloves, a scarf and hat. Being on the water is always cooler, so it's always better to have them and not use them, instead of having to buy them in the gift shop!
By the way, to help you pack lighter, ships offer laundry services for a fee, and some have self-service laundrettes with coin-operated machines.
Miscellaneous
It's wise to pack a first aid kit, an insulated travel bottle or mug, a few energy bars, an emergency rain poncho (or small travel umbrella), and insect repellent if you are venturing into bug country. Small and large ziplock bags are handy for toting snacks, a wet bathing suit or keeping small loose items together. Use travel-sized containers for toiletries, and I never bring shampoo, conditioner or lotion - I just use what's on the ship. And if getting to your ship includes a flight, don't forget the travel pillow, eye shade, ear plugs, and headphones for your mobile devices (and their chargers!). New ships have USB plugs in the staterooms but most still have the standard plugs. Bring a multi-voltage adapter if traveling outside of North America. A day pack or a tote bag is handy to put your belongings into while moving around the ship, or going ashore.
Lastly, there is one last essential item you need to pack before you leave for your trip, you can read all about it here.
Bon Voyage an see you onboard!