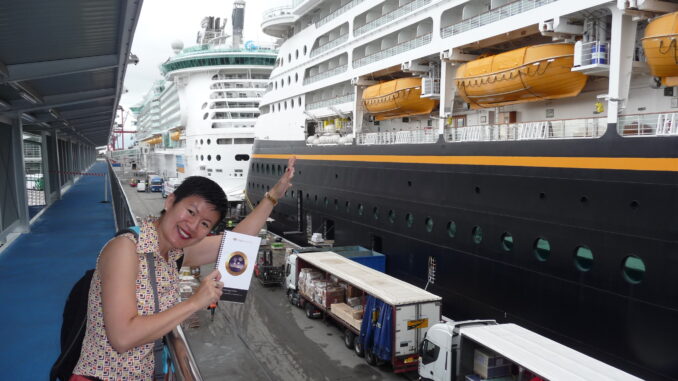 I went on a Disney cruise several years ago, which raised a few eyebrows amongst my friends. I don't have any kids, so why would I want to go on a ship full of children?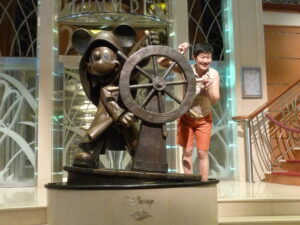 Well, it has always been my goal to experience as many different cruise lines as possible - not only because I love cruising - but also it helps broaden my experience and knowledge so that I can confidently write about it. I know that Disney is obviously a family cruise line, but it also caters to adults traveling without children, because after all, there are many Disney fans who aren't parents, or whose children have already grown up. Thirdly, I grew up with Disney characters (who hasn't?) and I've been to both parks in the States, I was excited to see what they would do onboard.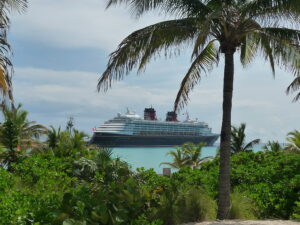 I purposely chose a 14-night transatlantic sailing in mid-September so there were definitely fewer families onboard. Sailing from Barcelona, my itinerary onboard the Disney Wonder included Gibraltar and Madiera before spending almost a week crossing the Atlantic. Once in the Caribbean, we docked in Tortola, and Disney's private island Castaway Cay in the Bahamas, before arriving in Port Canaveral.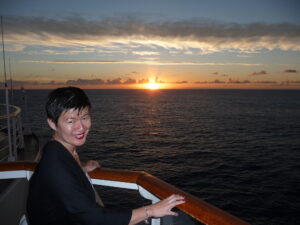 Right off the bat, I got so many "OMG so many sea days!" reactions from my friends. To many avid cruisers such as myself, sea days are actually the BEST days! These are days without schedules - sleep in, go to the gym, read a book, stroll the promenade, sunbathe, swim, and not to mention, eat. I can spend hours just sitting on my balcony, listening to the waves splashing against the hull, watching the ocean go by and spying on passing ships with my binoculars.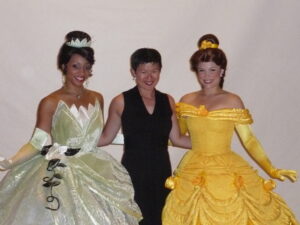 But anyway, back to my story... Disney doesn't call its park "the happiest place on earth" just because it's a cool tagline. They have seriously mastered the techniques to deliver a fantastic vacation with every meal, show, activity, and interaction with their characters and crew - aptly called cast members. From the moment you walk onboard to the time you disembark, the entire cruise experience is unforgettable. I won't give too many spoilers because I hope you will experience it firsthand one day, but Disney has basically brought all it has perfected shoreside to the ocean. I can honestly say that for those 14 days, I was indeed happy to get up to see what awaited me.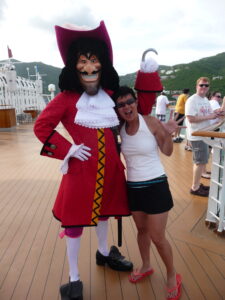 There were deck dance parties, fireworks, character breakfasts, and a pirate night, where everyone was encouraged to dress in costume. This is where the serious Disney fans showed their stuff. There were daily photo-ops with the characters, but the best ones were the impromptu appearances that you either ran into or overheard from someone else. Hearing "Chip and Dale are on the promenade!" nearly caused a stampede, and Captain Hook got mobbed when he showed up during sailaway.
But how were the kids?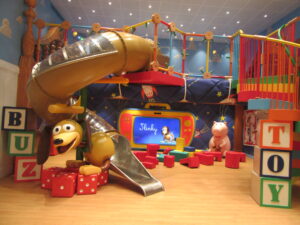 Well, they were pretty occupied by the children's program every day. On the Wonder, nearly half a deck is dedicated to the children's facilities, and even when they move from room to room, they have their own private passage as not to disturb the other guests. I toured the facilities on the first day of the cruise and was so impressed by (maybe even envious of) what they got to play with.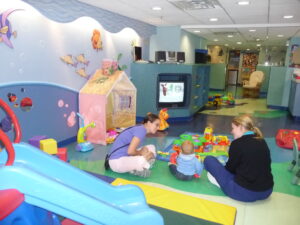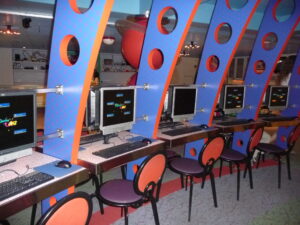 Grown-ups like me got to use the adults-only pool, coffee bar, and deck area, and in the evenings, a few lounges became adults-only bars and nightclubs with live bands. As well, the specialty restaurant Palo is for adults only, serving up delicious Italian cuisine. Disney still offers traditional early and late seating dinner in the main dining room, so it helped that I chose the late seating, as most families dined at the 6 pm early seating.
Overall, there were plenty of places where I could enjoy all my activities and never did I feel that the ship was overrun by children. In fact, due to Disney's extensive programming, the children were too engrossed in their entertainment and activities to be loitering or disrupting others.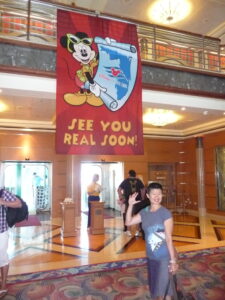 So yes, just like many adults without children visit the Disney parks, taking a Disney cruise when you are not a parent or traveling without children is perfectly fine.
See my tips below to plan your Disney Cruise, and I highly recommend working with a travel advisor who specializes in Disney parks and cruises, as he/she will have lots more insider tips to share.
I hope you'll find yourself sailing along with Mickey, Donald, and the gang someday. It's an experience you'll never forget!
My Disney Cruise Tips:
Just liking visiting Disney parks, a Disney cruise will cost a premium - but it is well worth the price. Short of theme park rides, you will have a full Disney experience onboard and in my opinion, your chance of seeing the characters are much greater on a cruise! Plus don't forget, your Disney cruise will include all meals including a Character Breakfast, and non-alcoholic beverages including soft drinks – which all cost extra at the theme parks.
Disney cruisers are serious fans and will book far in advance, therefore keeping the ships full and prices high. Book early for the best stateroom choice and pricing options.
Longer sailings, while school is in, may have lesser kids - although it's never a guarantee since many American children are home-schooled so their parents will take them onboard. Holidays, spring break, and summer months will the highest number of families and children.