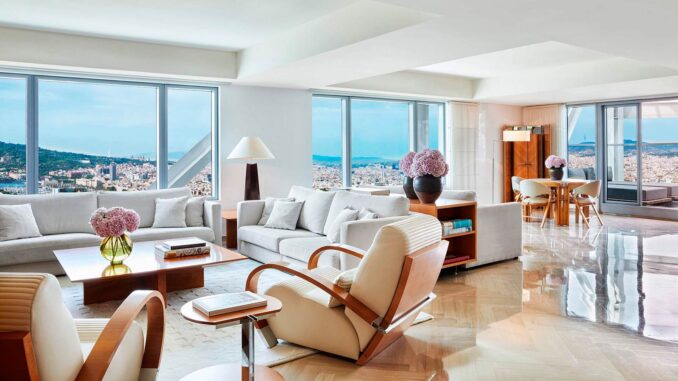 I found myself in Barcelona again this spring before embarking on a Mediterranean sailing. It was my third pre-cruise visit, as the city is a major embark and debark point of Mediterranean and Transatlantic voyages.
I had stayed in the touristy La Rambla area before, so this time, I wanted to try someplace different, and only having glimpsed Barcelona's beaches previously, I decided to try a waterfront location. By chance, a social media post about Hotel Arts caught my eye, and after looking at its website, I knew I had found my perfect stay.
Location, Location, Location
When selecting a hotel, I first look at its proximity to public transportation, area attractions, restaurants, and shopping, followed by the hotel's quality and reputation.
Right off the bat, Hotel Arts ticked all the boxes. For starters, it's only 20 minutes from Barcelona's El Prat international airport, and there is a metro station within a five-minute walk from the hotel. From there, it's easy to reach Barcelona's premier attractions such as La Sagrada Familia church, the Gothic Quarter, the Passeig de Gracia shopping district, and of course - La Rambla. Barcelona's metro system is inexpensive and convenient, and I always feel safe using it.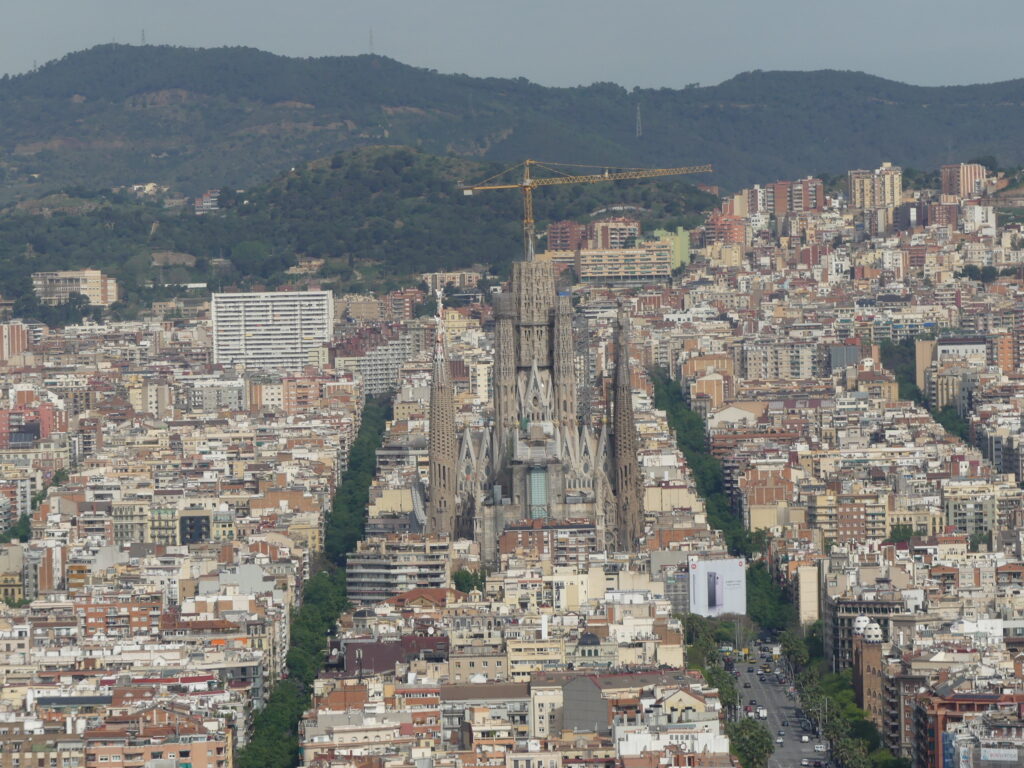 Walk the same distance opposite from the hotel's front door, and your toes will be wet. Sandy beaches radiate in both directions, with a delightful promenade running alongside. It makes for a scenic hour-long stroll from end to end, and there are plenty of restaurants and bars if you need a break. I found myself on the promenade every evening, amongst other walkers and groups of people doing circuit training, lifting weights, and playing beach volleyball. I did my part, walking off my tapas, paella, and Estrella Damm beer.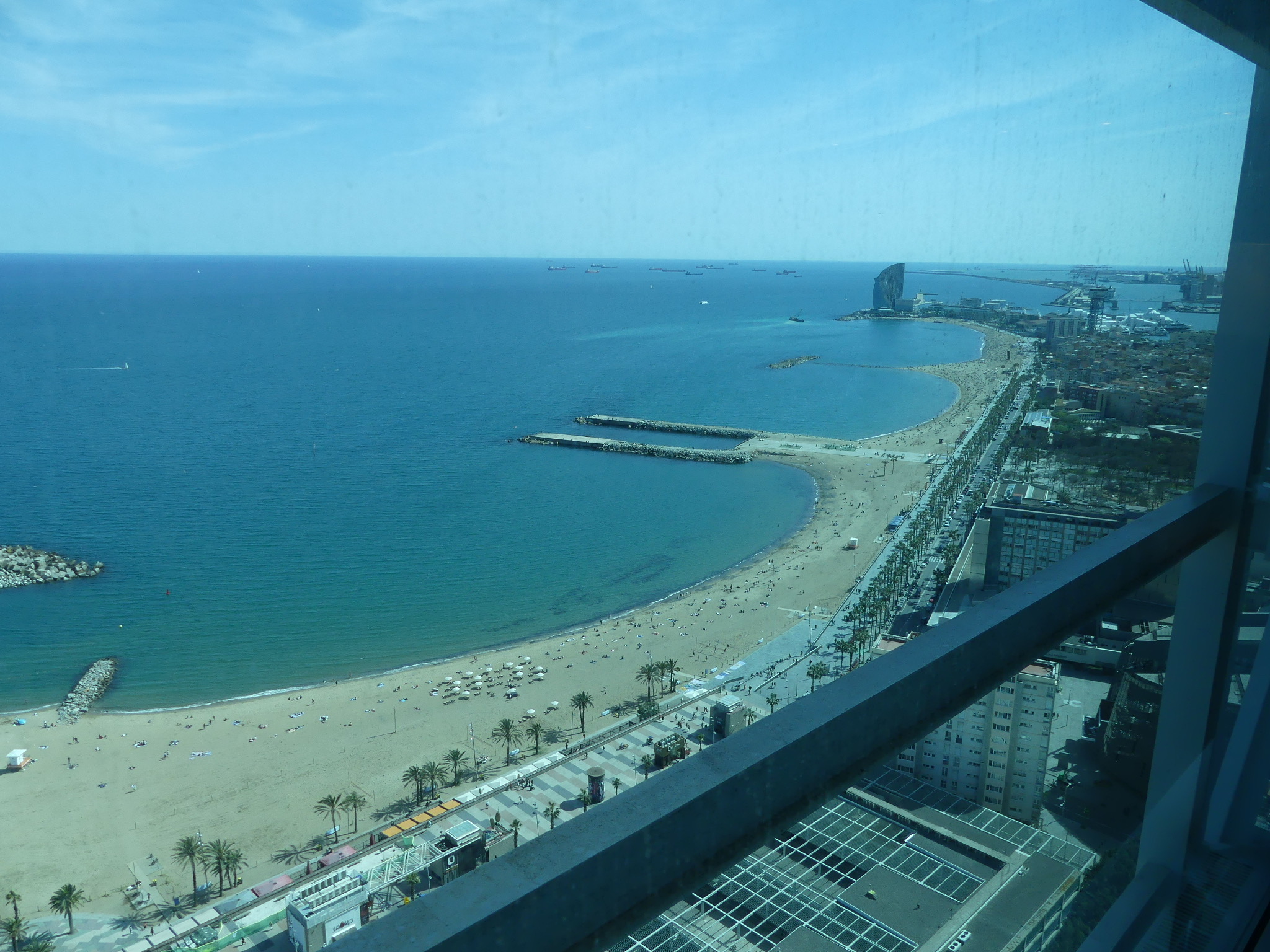 A piece of Olympics history
In 1990, development began in the north end of the La Barceloneta neighbourhood in preparation for the 1992 Summer Olympics. Port Olimpic was created to host the sailing competitions, with the 756-berth marina taking center stage. The venue location is unmistakable when approaching from the sea, with two of Barcelona's tallest buildings flanking the marina entrance, symbolizing the gateway to the city. One is the 43-storey Mapfre Tower (owned by the namesake insurance company), and the other is the 44-storey Hotel Arts.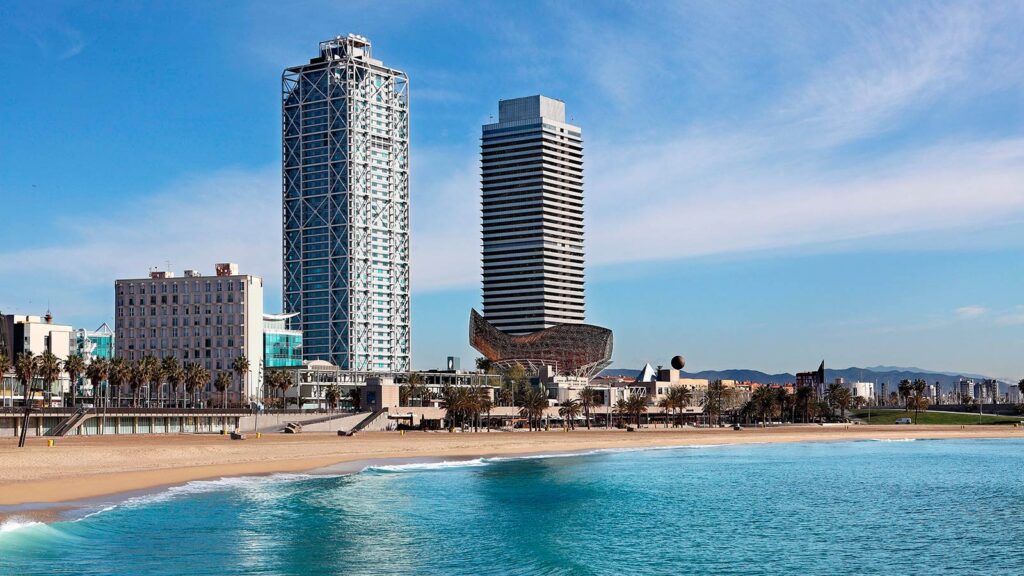 Luxury defined: spacious rooms and personal service
Operated by the Ritz-Carlton Group, there is no mistaking Hotel Arts' quality or reputation associated with the luxury brand name.
Despite having nearly 500 rooms, the service was personal and personable. I was warmly greeted upon arrival, and throughout my stay, every staff member I interacted with was friendly and efficient, and the service was attentive and cordial.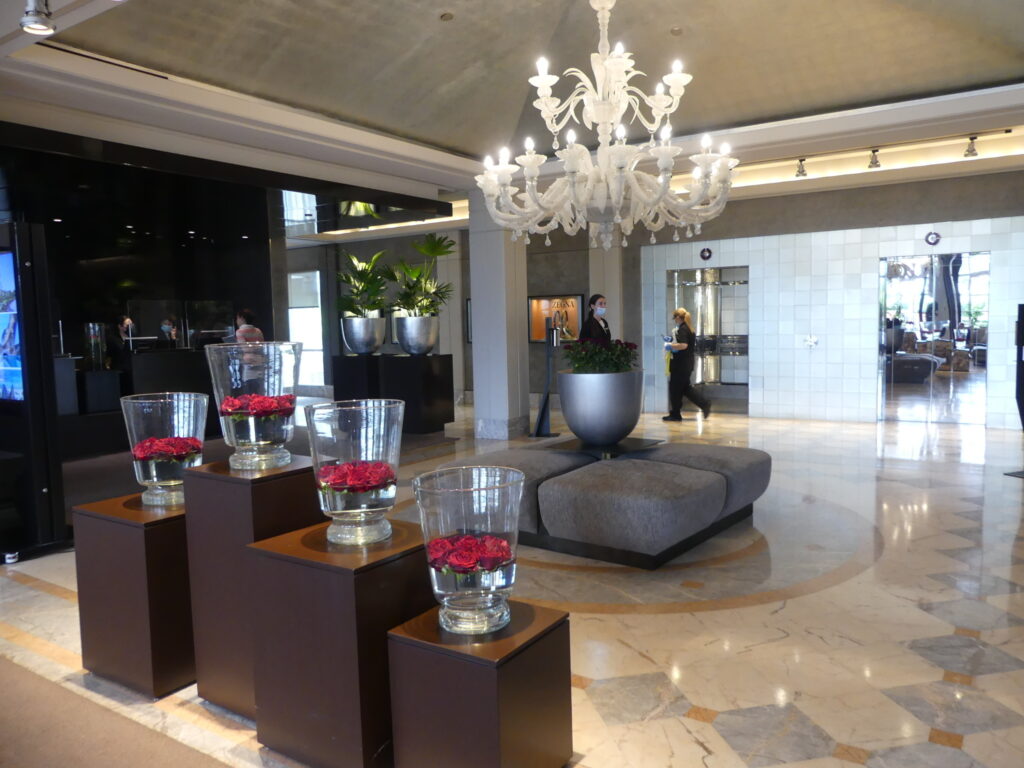 Boasting the largest entry-level room in all of Barcelona at 484 square feet, the Deluxe Room offers city or ocean views and has a large bath with double sinks, a separate shower, and a tub. In-room amenities include a writing desk, two lounger chairs, and a Nespresso machine. Book a Club Room and you'll enjoy complimentary access to a beautiful lounge that serves breakfast, lunch, and dinner, with champagne and wines chilling on ice.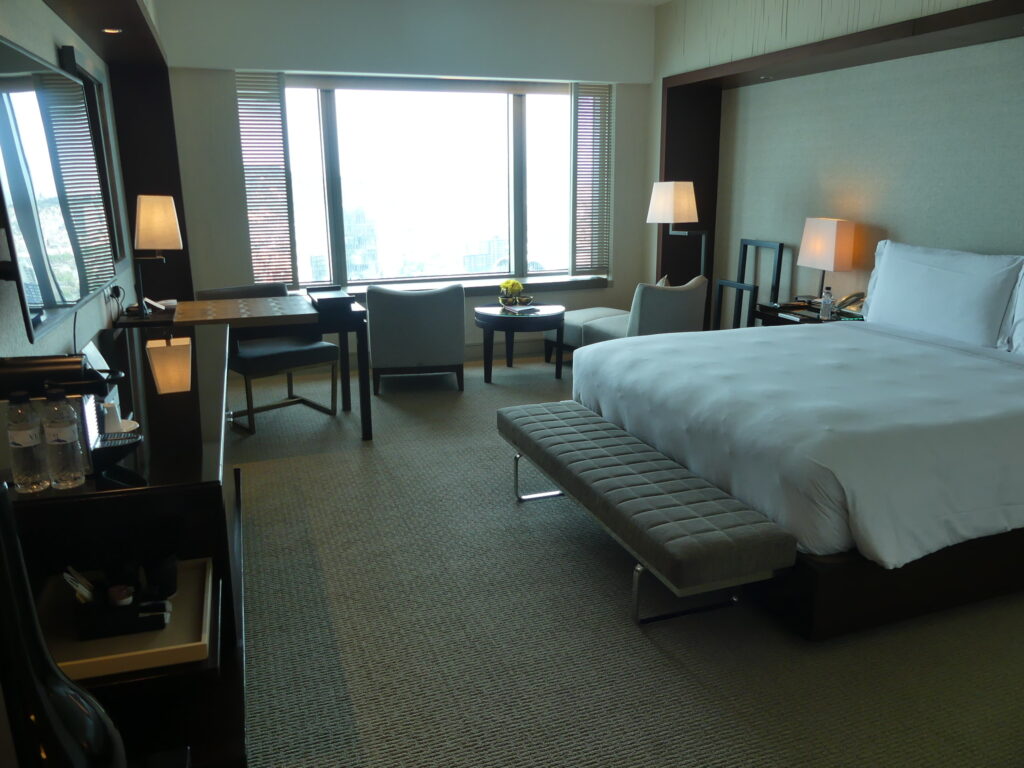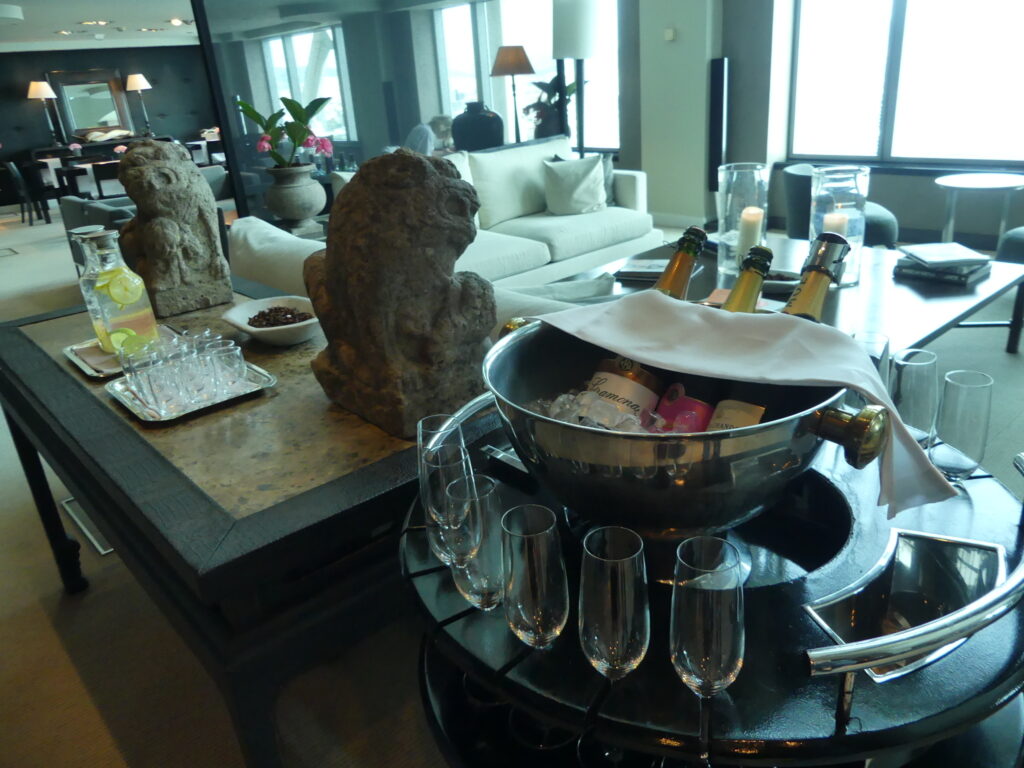 But where Hotel Arts shines is in the upper-end accommodations. Suites are located on the 19th floor and up, ranging from 775 square feet to the 2,000-square-foot Arts Suite that spans the entire ocean-facing side of the building. Its minimalist décor, exposed concrete walls, and contemporary furniture compete with the endless ocean views for your attention.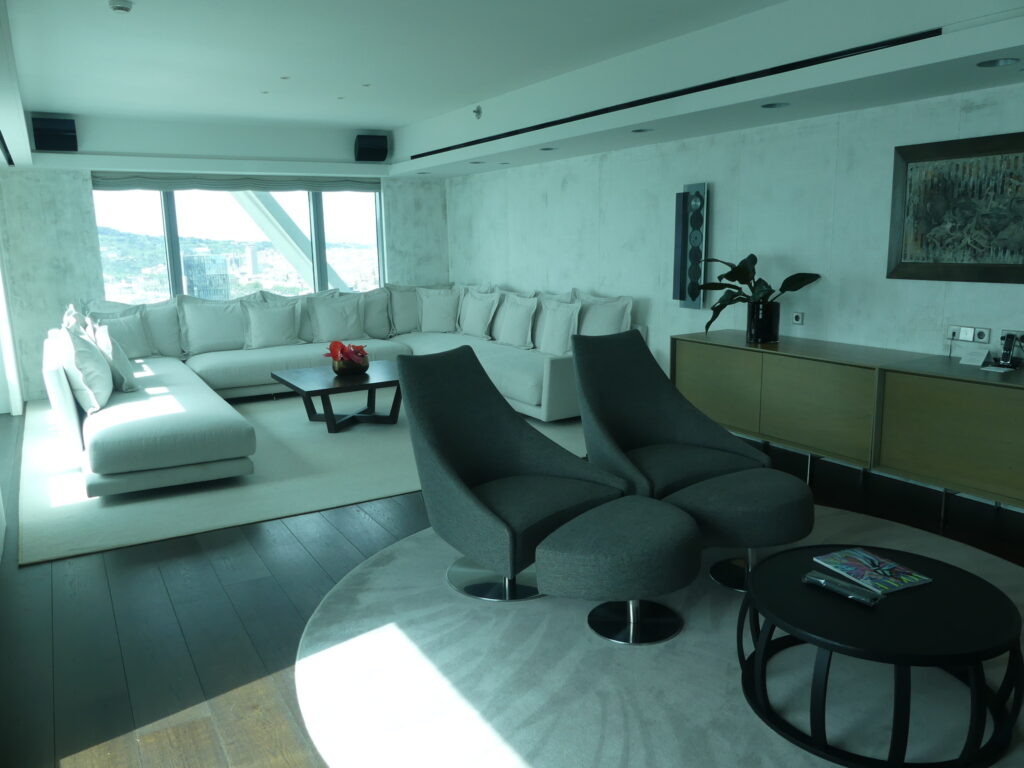 But if you REALLY want to splurge…
Located on the top floors of the hotel are one, two, and three-bedroom penthouse apartments with spectacular views. These suites have full kitchens, living and dining rooms, and the top-tiered Royal Suite and Presidential Suite (both are over 4,300 square feet) come with outdoor terraces and private gyms.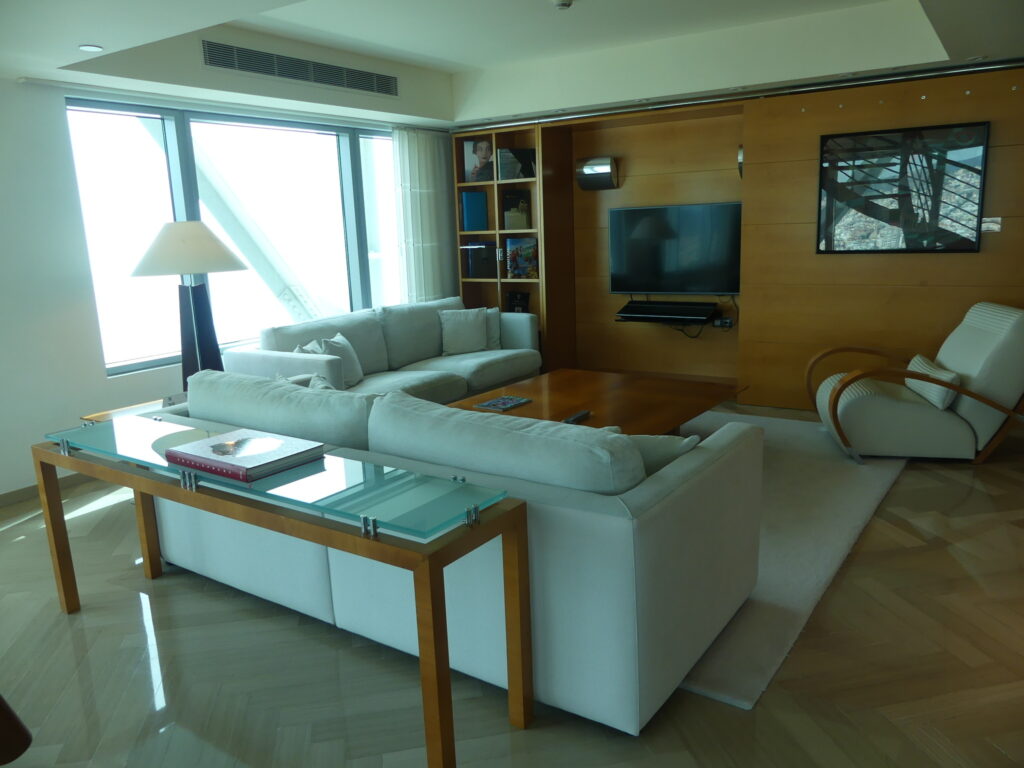 The apartments are furnished by award-winning Catalan designer Jaime Tresserra, whose modern and industrial style defines the look of each suite. Made with varnished walnut and teak and accentuated with metal fittings, each museum-quality piece is decorative yet functional, contemporary yet timeless.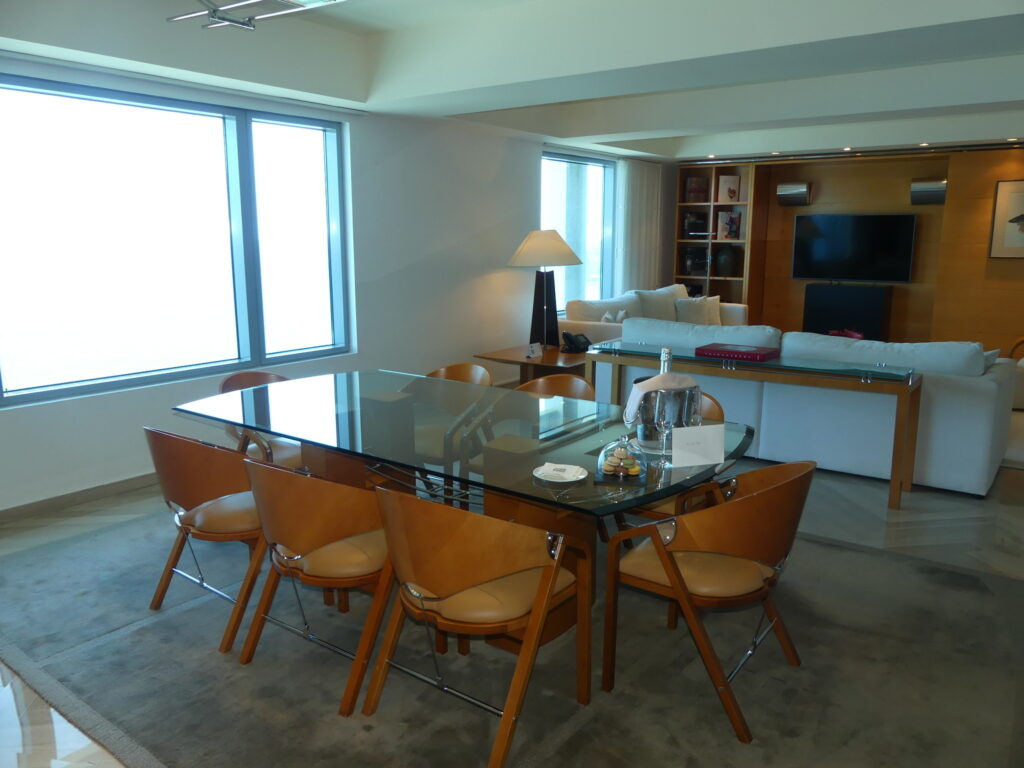 If you're splurging for an apartment, you'll be met at the airport and driven to the hotel in a Mercedes EQS sedan (read: a $150,000 car). Upon arrival, you'll be whisked to the private penthouse check-in level and shown to your suite. The penthouse butler team is at your service, accessible through WhatsApp messenger 24/7. A complimentary shuttle will drop you off at Plaza Catalunya for sightseeing and shopping, but if you wish to tackle the city on your own, a Mini Cooper Cabrio is available for 4 hours a day. When it's time to leave Barcelona, the same fancy car will deliver you back to the airport or the cruise terminal.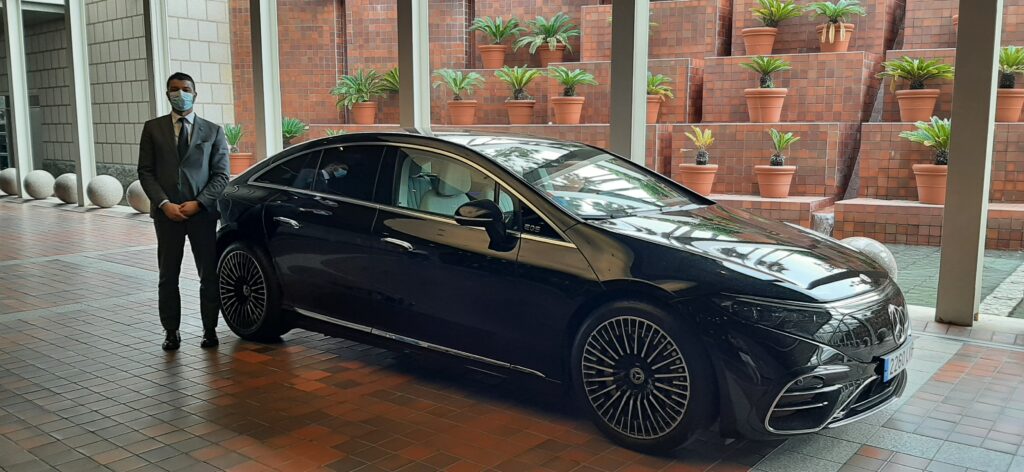 Who stays in these apartments? Business professionals and executives temporarily working in Barcelona, couples, friends, and families traveling together. And surely, celebrities and other dignitaries, although they didn't name names.
The art of Hotel Arts
Appropriately named, Hotel Arts is a multi-faceted representation of art in every discipline. It begins with architectural design, which is obvious the minute you set eyes on the building. Architect Bruce Graham (of John Hancock Center and Canary Wharf fame) encased the glass building with steel beams as if it were a metal cage protecting its delicate core, which in turn ensconces guests in luxury.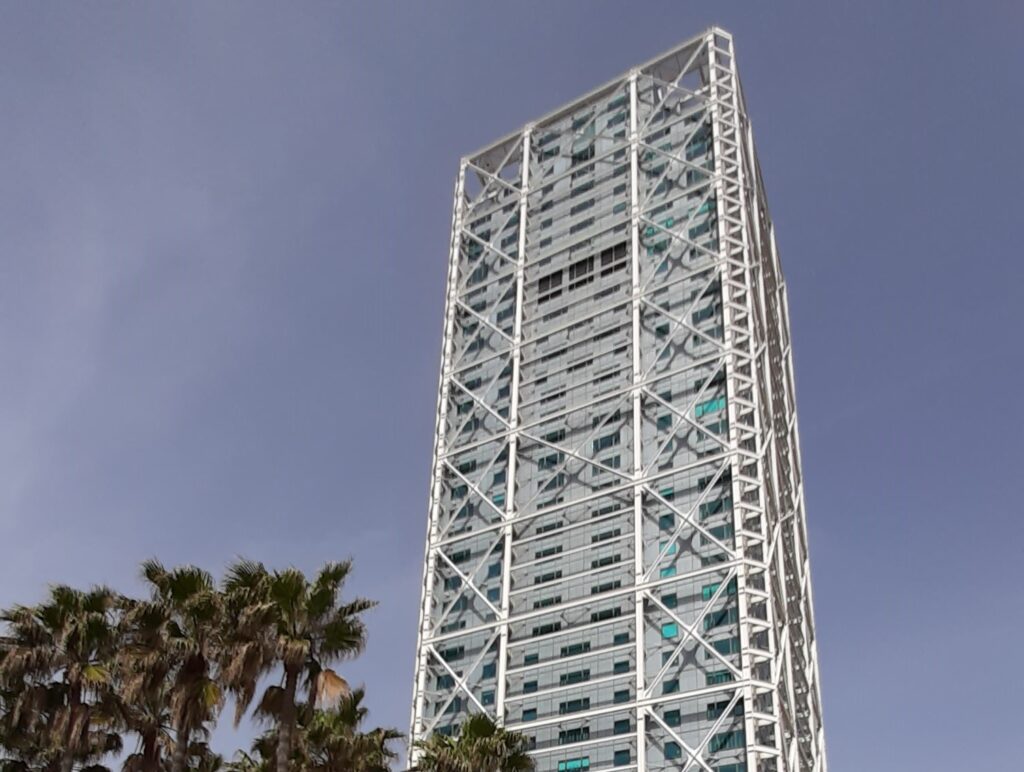 I've already mentioned the stunning interior design of the suites and penthouses, and the rest of the hotel is adorned with multiple visual art pieces by Spanish and Catalan artists.
The outdoor pool deck (and any ocean-facing room) provides a front-row seat to admire Canadian architect Frank Gehry's El Peix sculpture created for the 1992 Olympics. The 'scales' of the metal fish reflect different colours depending on how the sun hits it and even during overcast days.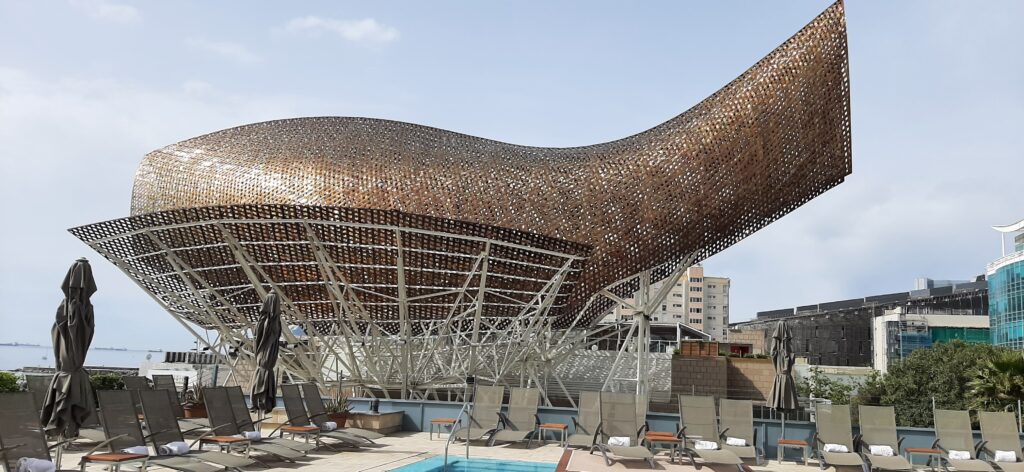 Finally, the culinary arts come alive at Enoteca by Paco Pérez, Barcelona's only two-Michelin-starred restaurant. Chef Pérez is a Catalan native whose signature cuisine marries ingredients from the sea, the garden, and the mountain.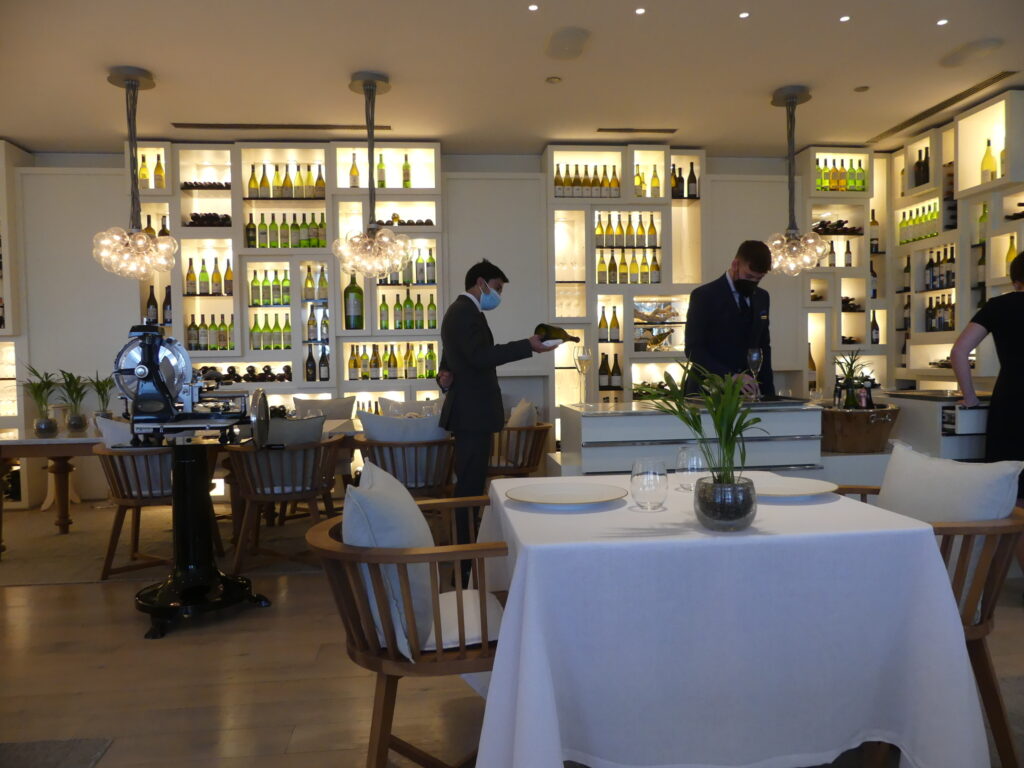 Ocean-facing with al-fresco seating, the restaurant offers a tasting menu paired with fine wines from the extensive cellar. Each course is a culinary work of art, beautiful to behold, and tastes equally divine. It's easy to understand why Chef Pérez is the most decorated chef in Spain, with six Michelin stars under his belt.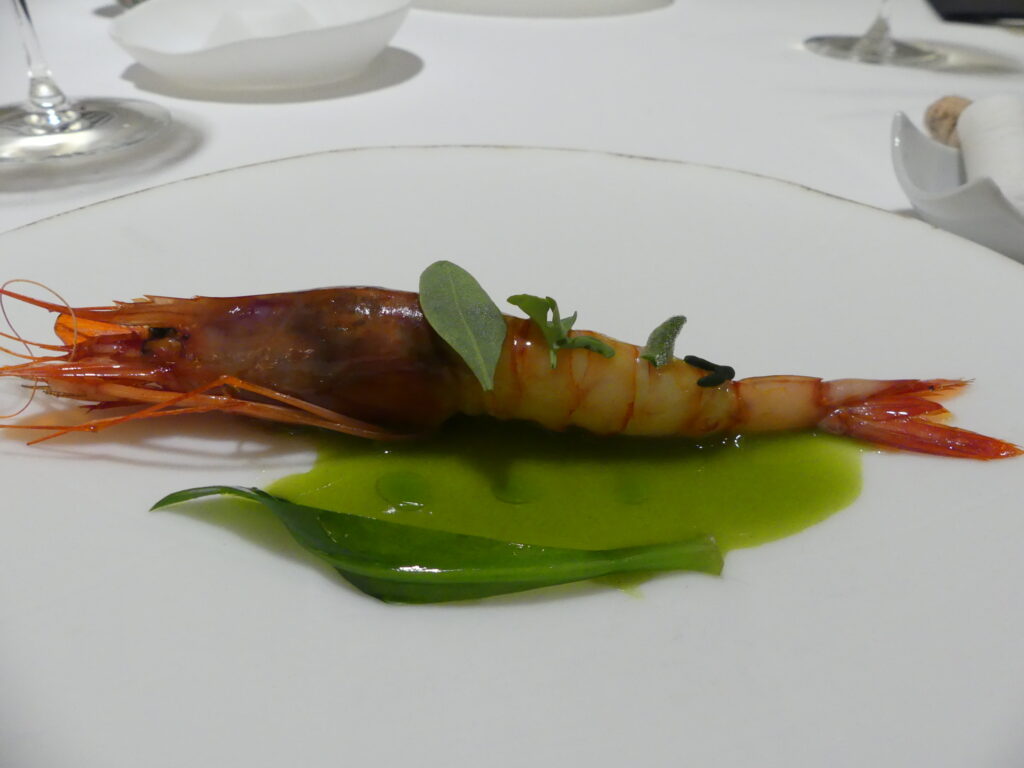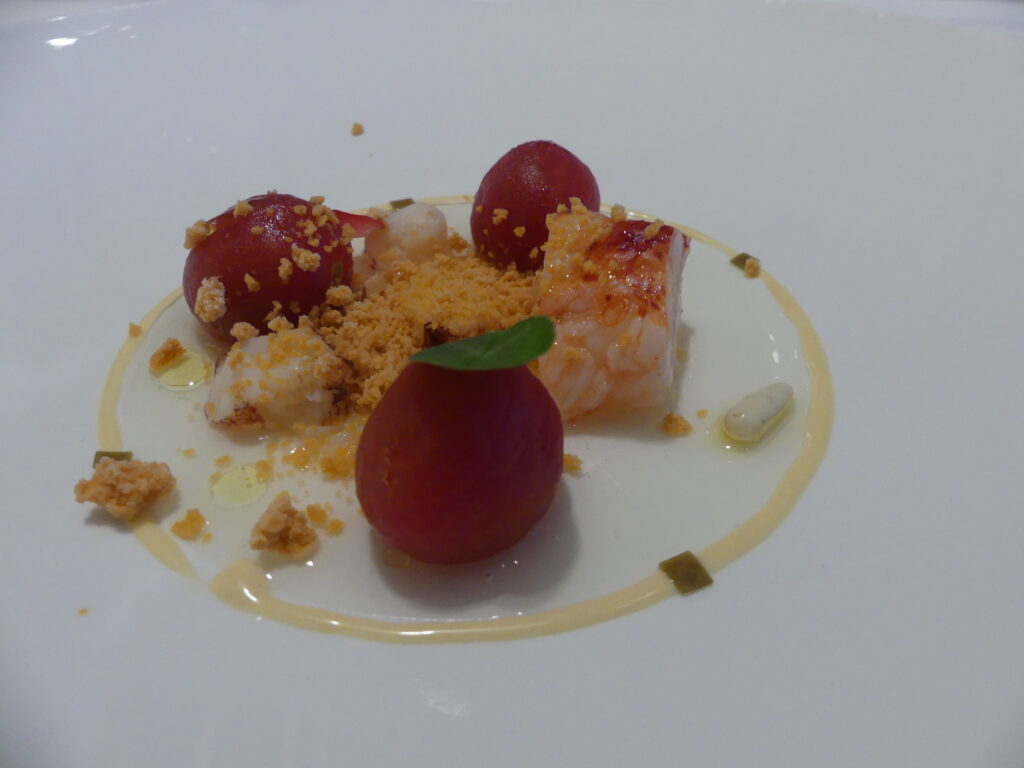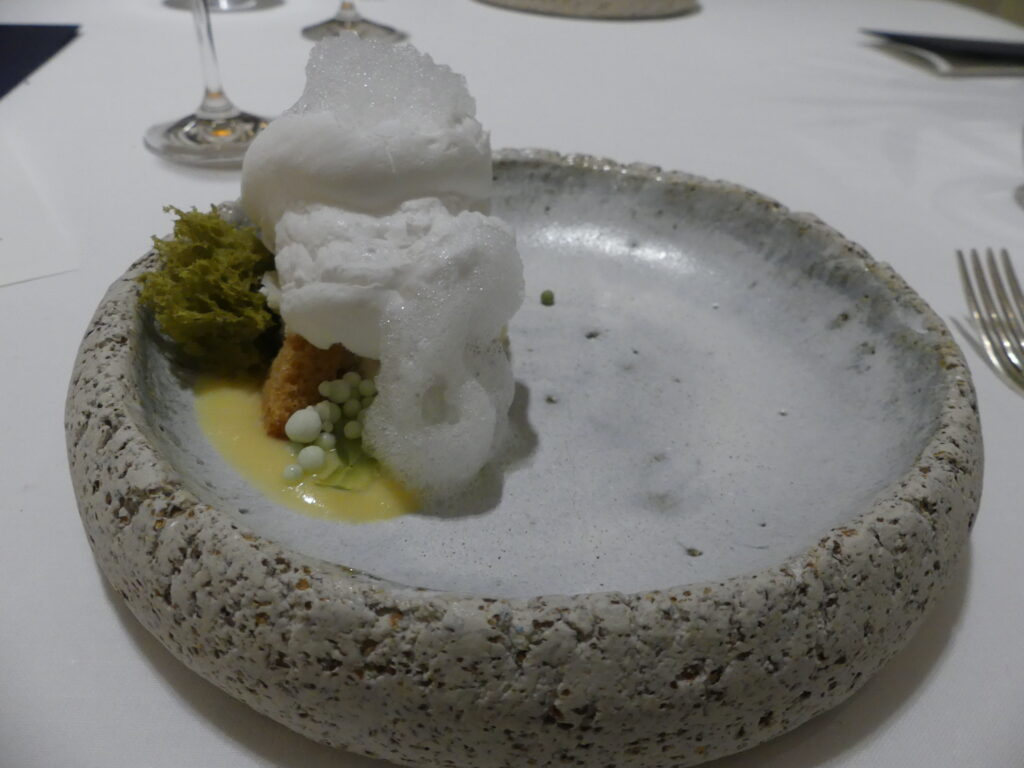 Before or after dinner, drop into P41 Bar to witness the art of creative cocktails. The P stands for Parallel, and the map on the wall shows the cities where parallel 41 cuts across (including Barcelona!). Taking signature drinks from these cities/regions and adding a twist, award-winning mixologist Diego Baud has curated an extensive cocktail menu with creative names like Cherry Thunder Old-fashioned, Electrifying Cobbier, and Double Trouble Zombie.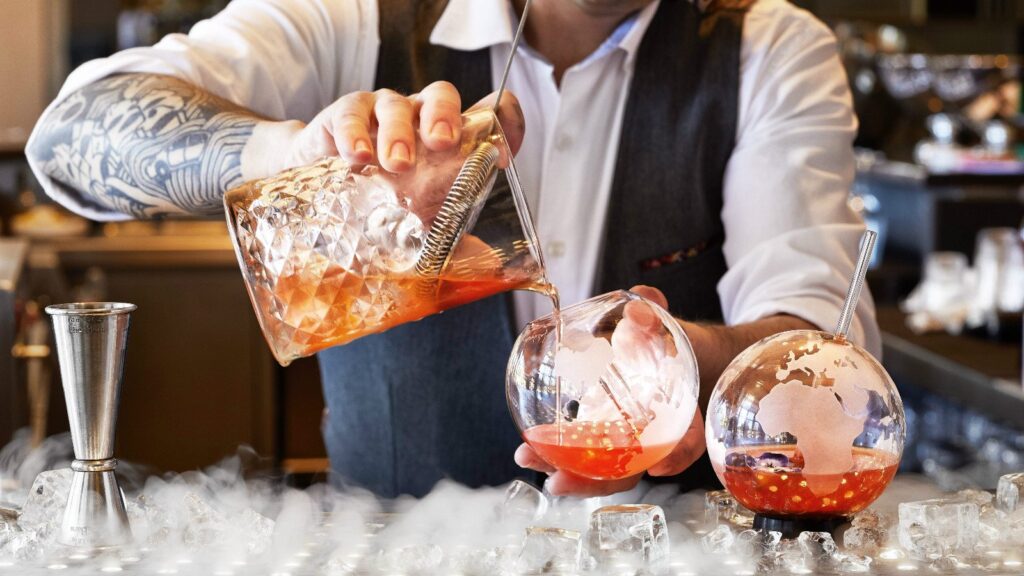 A spa in the sky
Lastly, I cannot miss mentioning 43 The Spa, the number signifying the floor on which it perches. Where else can you get a massage or gaze at the azure seas from the sauna or the spa terrace, all at 490 feet in the air? Alas, I didn't have time for a treatment or try out the hydrotherapy pool and steam rooms. Which only means I'll make sure my next cruise begins or ends in Barcelona so I can return to the Hotel Arts for another round of perfection.