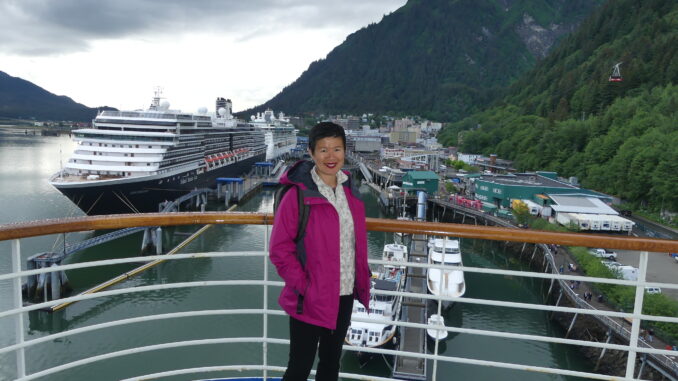 Having lived in Vancouver for over 20 years, I had the privilege to sail to Alaska five times. Well, six if you count the last cruise, as it was a back-to-back northbound and southbound sailing.
People always ask me why I went there so many times, didn't I get bored?
Of course, the number one reason was the fact that the gateway to Alaska was at my doorstep, with a wide array of cruise lines sailing weekly between every May and September. It didn't require a flight, and I could get to the pier by taking public transit. When one of the biggest hassles of cruising - getting to the ship - is removed, it was a no brainer!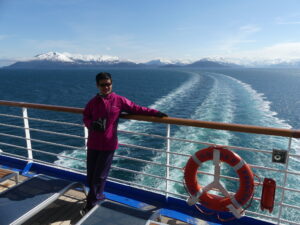 The second reason is that I love cruising. Being onboard a ship feels like I'm in my second home, like how you'd go to a cottage or a vacation home. Except this one comes with doting staff who makes my bed, cooks me delicious meals, puts on fabulous shows and endless activities. And the always-changing scenery can't be beat! When I'm up on deck as my ship glides silently through the waters with inlets and islets on either side, surrounded by ancient fjords carved by glacial ice, it is incredibly serene and soothing, and I never get tired of it.
And although the Alaskan ports are relatively small, it's amazing that every time I've been back, I've been able to find something different to do.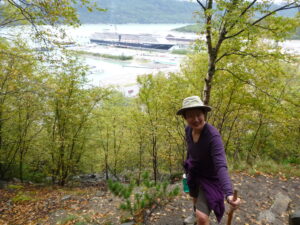 Take Skagway for example. The must-do excursion is to take the White Pass Rail to the summit. Did that the first time I was there. On my subsequent visits, I've explored the shops that line the streets and joined in the hunt for the best deal on a hoodie and fleece. I've also done several short hikes on trails accessible right from the town, one of which I dubbed as the "mushroom trail" as the forest floor was littered with fungi of all shapes, colours, and sizes. And on my last visit, my ship was in port for 12 hours, so I got into a rental car and travelled up to Whitehorse - a two-hour drive each way via the scenic Klondike Highway. Completely worthwhile!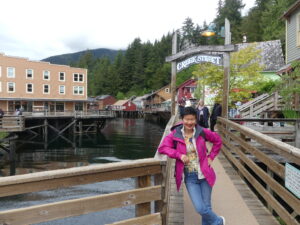 In Ketchikan, I kayaked for the first time - in the pouring rain no less - but the next time I returned, it was sunny and warm, and I experienced the town from a completely different perspective. I've strolled the boardwalk of Creek Street, peeked into its shops and galleries, and taken the city bus to Totem Bight State Historic Park. But on one sailing, we had to skip Ketchikan due to strong winds, so my list of adventures there is one short.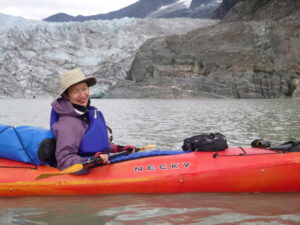 And in Juneau, I've taken a flightseeing excursion, hiked up to Mt. Roberts twice, kayaked on Mendenhall Lake, wandered down the waterfront, drank a pint at the Red Dog Saloon, and took a tour of the Alaskan Brewing Co.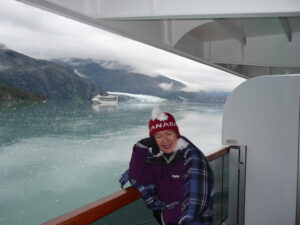 Glacier Bay was included in four of my sailings, and the National Park is a magical place that no one will ever get tired of. Dressed warmly and wrapped in a woollen blanket, I would spend the entire day either on the top deck, or walking the sheltered promenade deck, breathing in the fresh air, photographing the magnificent rivers of ice, and contemplating the peace and quiet of it all.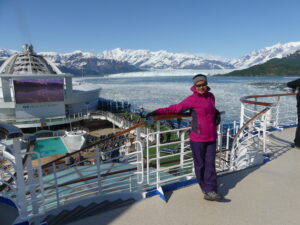 Hubbard Glacier was another highlight that I got to visit twice. The first time was a bust, as my sailing was early in the season and there was too much ice in Disenchantment Bay where the glacier's snout touches the sea, and we couldn't get anywhere near it. It was a drizzly, windy day, and when I put my fingers up in front of me to "measure" the height of the 350-foot glacier (above the waterline), it was less than an inch tall, that's how far away we were. My next attempt more than ten years later yielded a better result. It was the second week of June after a much warmer winter, and this time we got a much closer view of the mighty glacier and the surrounding waterways.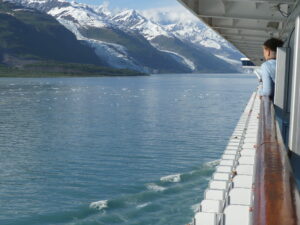 But it is College Fjord that tops my list of glacier viewing, and it was on my last sailing that I got to experience it. Discovered in 1899 and named for the Ivy League colleges, the 16 tidewater glaciers are all lined up in a row on either side of the fjord. My ship visited on a glorious sunny day, and we were treated to the best ice show ever.
So as you can see, Alaska has so much to offer, and despite visiting six times, there were still new things for me to discover. As well, weather can also play a factor on an Alaska cruise. What got fogged in, rained out, or ice-dammed might get a second chance the next time you return.
I also love the fact that since I've been there already, I no longer have to get up early and rush off the ship like everyone else. The best memories I have of Alaska is actually having a leisure breakfast at the buffet while docked, where I can take my pick of tables along the window to enjoy the view. Then, a saunter off the ship without line ups, and taking the time to do what I want. The fact that the ports are accessible, small enough to walk everywhere, and there's no language issues or crazy currencies to deal with, makes it an enjoyable and stress-free vacation every time.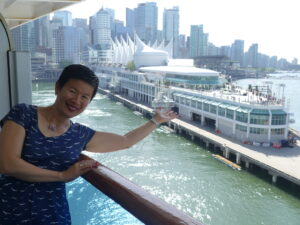 And yes, I'd go back again in a heartbeat!
My Alaskan Cruise Tips
Glacier Bay National Park has strict limits on ship visits, therefore not every cruise line gets a pass. Princess and Holland America Line, being pioneers of Alaska cruising, typically receives the most permits, but not on every sailing. Make sure to check the itinerary.
College Fjord is visited by Princess Cruises on most one-way sailings between Vancouver and Whittier. Ships on northbound sailings arrive in College Fjord in the late afternoon, while ships sailing southbound call early in the morning. If you are not an early riser like me, opt for the northbound sailing.
Several cruise lines sail to Alaska from Seattle, allowing Americans to fly domestically and get onboard without having to cross the border. In my opinion, the Vancouver departure point is more desirable, not because I lived there, but because your cruise starts further north, which means you get more time spent in Alaska. Also, your ship will sail along the Inside Passage, where you are closer to the scenery and the chance of wildlife sightings is greater. And sailing under Vancouver's Lion's Gate Bridge is a super cool experience. Ships from Seattle sail up the west coast of Vancouver Island (what I like to call the "outside passage") so that they can make up the distance at greater speed, but your time will be spent at sea, not close to any land.
And the biggest question I get it - what side of the ship should I book my cabin on? Well, if your ship cruises the Inside Passage, there'll be something to see on both sides, so it doesn't matter. And if you are taking a roundtrip cruise, what you miss going up, you'll see on the way down. So then it comes down to if you are cruising one-way. Northbound cruisers might lean towards a stateroom on the starboard (right) side, while southbound cruisers might opt for one on the port (left side). But is it really a deal-breaker? Not to me, but if it means that much to you, then my advice is to book early to get what you want.