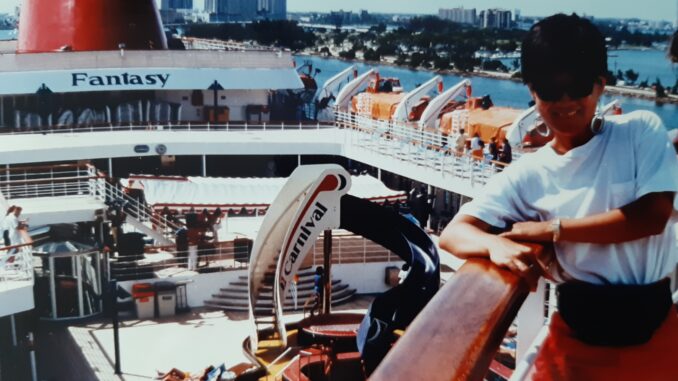 This is the cruise that started it all, the one that brought me to where I am today. The year was 1991, and I was looking for my next vacation. My only other trip as an adult had been to Disneyworld the year before, which of course was tons of fun. I perused endless travel brochures full of all-inclusive vacations in Mexico and the Dominican Republic. Cancun was a hot destination back then, with sprawling resorts lining the white sand beaches next to the azure seas. Definitely very tempting.
I flipped through hundreds of pages but somehow a cruise caught my eye. I still remember it like it was yesterday: roundtrip flights from Toronto and a 4-night cruise to the Bahamas for CAD$625 per person, includes all meals, entertainment, and a stop at Nassau, and Freeport. The ship was Carnival Cruise Line's Fantasy, launched just a year earlier. At just over 70,000 gross registered tons, she carried 2,000 guests and was part of the new class of "superliners" - one of the biggest ships at the time.
Back in 1991, you bought vacations by looking through brochures and then visiting your travel agency and you wrote them a cheque. I didn't even have a credit card. What the heck, I thought, it's a good price, and it's only 4 nights, I guess I can try it out.
It was a Monday in late August that I got to the pier, porters whisked away my bags, and I waited to get onboard. After enthusiastically posing for the "welcome aboard" photo, I find my cabin on the lowest deck of the ship. It's a Category 1A inside with upper and lower bunk beds. Yes, I went cheap since I had no idea if I was going to like it. I had also just started working full time so I was being frugal, plus I knew I was not going to be spending any time in my cabin. The room was sparse with orange upholstery, but the shower was surprisingly roomy, and there is a ladder to reach the top bunk. I remembered the bed smelling faintly of vomit, surely the room had seen its share of partied-out occupants. But when you're young and none the wiser, it wasn't really a big deal.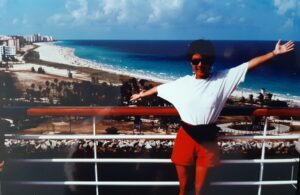 As soon I was up on deck, I was greeted by a waiter with a tray of giant colourful drinks dressed with umbrellas and cherries in tall Carnival-logoed glasses. Let the vacation begin! Sailaway was so magical, full of steel drum beats and conga lines as we cruised out of the Port of Miami under sunny skies and warm breezes. I'll never forget the sound of the ship's horn constantly blasting, and the throngs of bystanders lining up shoreside, waving and cheering at us.
My first dinner was nothing short of an extravaganza. What? I could choose anything on the menu, and if I couldn't decide between two things, I could have both!? And the waiters could not do enough to make sure I was happy. Don't forget, I was fresh out of post-secondary school, where my previous dining experiences had been limited to campus cafeterias, fast food, and family-style restaurants. Although I would later find out that snobby cruisers poo-pooed Carnival's food quality back in those days, I was over-the-moon impressed.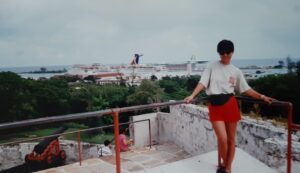 I think I did more on those four days than I had ever done in a year. I played slots in the casino, danced in the disco, watched the extravagant floor shows, soaked in the hot tub, laid out in the sun, and drank countless more of those umbrella and cherry-topped drinks. Nassau and Freeport gave me a taste of Bahamian paradise to which I will return several times in the future. Even after the first day, I said to myself: This is it. I'm cruising from now on.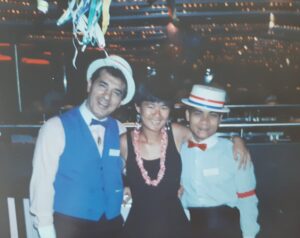 Flash forward to today, 55+ cruises later, I still think back to the smart decision I made almost 30 years ago. Cruising became such a big part in my life, it has given me a career that has lasted 26 years (and still counting), and I'm blessed to have traveled to so many places and made so many amazing connections and friendships. I never did make it to Cancun, and sometimes I wonder what would have happened if I chose that instead of a ship.
But that is a fleeting thought, as I'm soon back to dreaming about my next cruise.