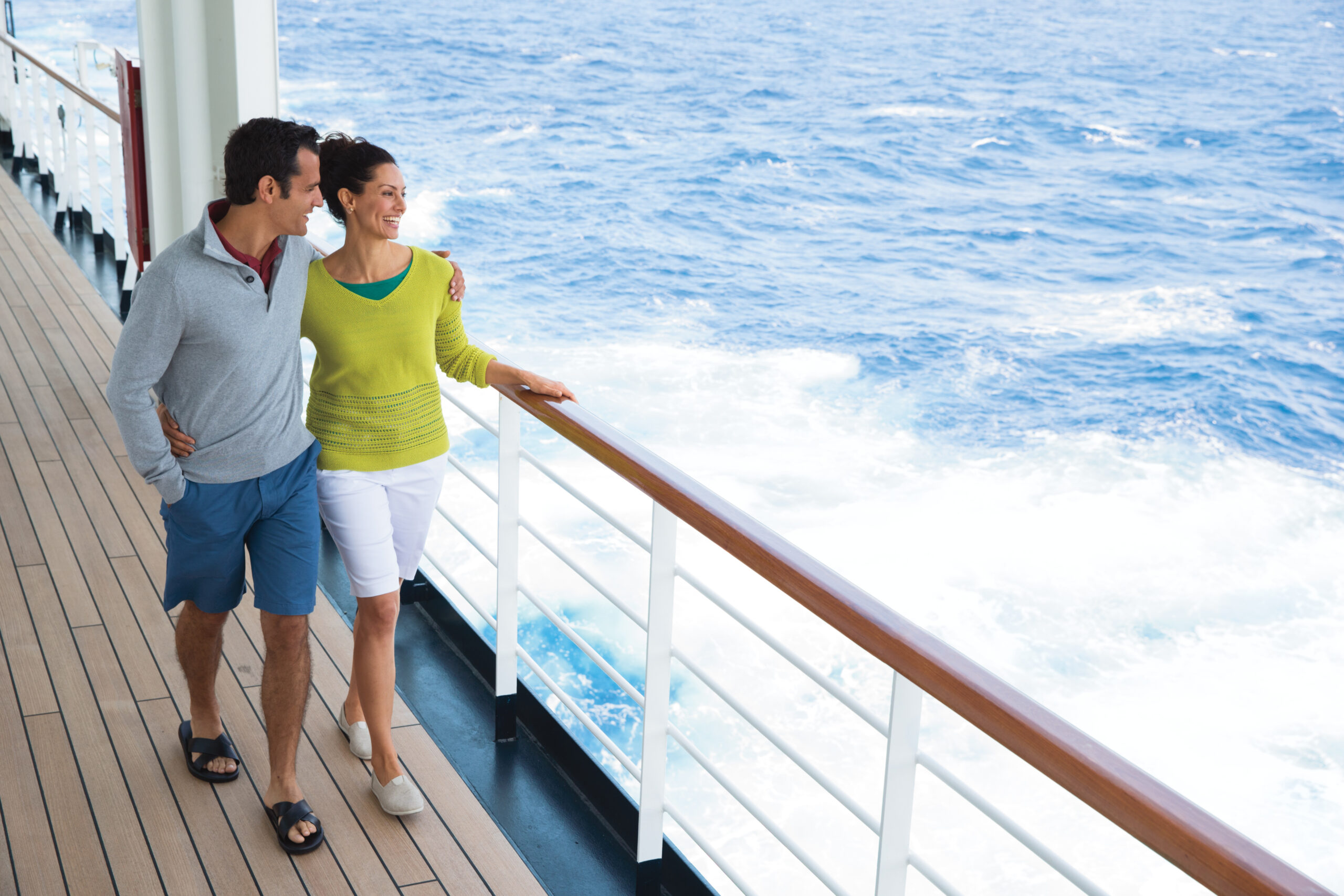 So you have decided to go on a cruise - congratulations! If this is your first time, you may have lots of questions. I've listed the most frequently asked ones below to help you out. Click on the topic to jump to that section.
Booking Your Cruise
Please work with a travel advisor who specializes in cruises. Travel advisors have firsthand experience, inside information, and may have access to special pricing and onboard extras. Most importantly, if anything arises before or during your vacation, they are there to provide assistance. Remember, without a travel advisor, you're on your own.
Back to Top

Choosing Your Stateroom
All staterooms have two beds that can be set up as twins or one queen, a private bath with shower, vanity or desk, chair, closet, and individual temperature control. Almost all will have a hairdryer, personal safe, and small fridge. Depending on the cruise line and ship, some may have a tub in the bath and a larger seating area. Check with the cruise line you are booking to confirm the amenities.
The least expensive staterooms do not have a window, aptly named inside or interior stateroom. Next up is an oceanview stateroom with a large porthole or a window that does not open. Some oceanview staterooms may have a lifeboat or part of the ship's structure obstructing the window and therefore are priced lower. The next category is a balcony which has a door to your private patio, furnished with two chairs and a table. Moving up from that, there are mini suites, suites and penthouses, which may include separate bedroom, living and dining areas, upgraded baths and larger balconies and sunning areas.
Tip: Choose the best stateroom you can afford, resist the temptation to reserve the cheapest stateroom. You've worked hard to earn your well-deserved vacation, and your stateroom is your haven to relax recharge, shouldn't you be treating yourself to a balcony or a suite?
Back to Top

Payment Guidelines
If your cruise is at least 90 days away, you'll be expected to pay a deposit to secure your stateroom, and the balance will be due between 90-60 days prior to sailing. If you are booking last minute, or booking a special "pay in full" special, you will need to pay the entire balance at time of reservation. All major credit cards are accepted.
Back to Top

Cancellation Penalties
Cruise lines charge escalating penalties depending on how close to sailing a reservation is cancelled, ranging from the deposit amount, to 100 percent of monies paid. As life is unpredictable, my advice is to always purchase cancellation insurance. It's a small price to pay to protect your hard-earned investment.
Back to Top

Pregnancy and Infants
Most cruise lines will not allow women in their 26th week of pregnancy to sail, and babies need to be at least six months old to sail, or 12 months old to sail on a transoceanic or extended voyages.
Back to Top

Minors
Guest must be at least 21 years old to occupy a stateroom on their own. Anyone under 21 must be in a stateroom with a parent or legal guardian over 25. Some cruise lines will allow an exception for families if parents are in adjoining staterooms or across the hall from the minors.
Back to Top

Smoking and Alcohol Policies
Smoking is not allowed in all interior spaces, including staterooms and balconies. Smoking may be permitted in the casino on some ships, or in designated areas up on deck. Some ships may also have a cigar lounge.
The legal drinking age onboard ships is 21. Ship's staff will check ID and will refuse to serve alcohol to underaged or intoxicated guests.
Tip: Most cruise lines will let you bring one bottle of wine or champagne onboard at embarkation day, to be kept and consumed in your stateroom. Do this and you will have something to sip on while getting ready for dinner!
Back to Top

Travel Documentation
A passport with at least six-month validity after your return date is required to travel. When visiting countries that require a visa, some cruise line may issue a blanket visa for all guests disembarking on excursions, but not for guests exploring independently. Check with the cruise line you are sailing on for specific requirements.
Back to Top

Online Check-In
Once final payment has been made, it is time to complete the online check-in process to prepare for your cruise. Cruise lines will require your passport, address and emergency contact information in order to issue your electronic boarding pass. This process must be completed at least 72 hours prior to sailing.
Back to Top

Inclusions and Exclusions
All meals and snacks, coffee, tea, water, milk and juice are included in your fare, as are daily activities and nightly entertainment. Use of the fitness centre equipment and some fitness class are complimentary, as well as the use of deck chairs, pool towels and outdoor deck sports.
Not included are alcoholic beverages, sodas, specialty coffees and teas, and bottled water. Optional excursions and gratuities to shipboard staff are also additional. Premium and luxury cruise lines will have some or all of these included in the fare, which often represent excellent value.
Back to Top

Arriving and the Pier
All-aboard time is typically one hour prior to sailing time, it is your responsibility to arrive on time. Don't be late or the ship will leave without you. If you are flying to reach your embarkation port, you can purchase a meet-and-greet transfer to the ship from the cruise line, or take a taxi or shuttle to the port. Be mindful of how far away the port is from the airport, and follow the cut-off time for arriving flights.
Tip: Arrive at your embarkation point at least one or two days prior to your cruise. It will give you time to explore the city, recover from jetlag, and to account for any delays.
Back to Top

Embarkation Day
If your ship is sailing in the late afternoon, embarkation typically begins at noon. If sailing on a large ship, the cruise line might suggest an arrival window in order to ease congestion. At the cruise terminal, porters will take your luggage which will be delivered to your stateroom. After checking in and receiving your stateroom key, you will be called to board the ship when ready.
Tip: Always keep your travel documents, medications and any other necessary items with you in a carry-on. Your luggage may not be delivered to your stateroom until several hours after sailing, having necessary items and clothing to freshen up is always a good idea.
Back to Top

Dress Code
Day time dress onboard ships is casual, as dictated by the weather in the cruising area and your activity. Evening dress is either resort casual or formal.
The dress code onboard ships have been relaxed over the past few years. Some cruise lines that have done away with formal nights, or have made them optional. More information on dress code is also available in my Packing Tips post.
Back to Top

Dining
Breakfast and lunch is open-seating in the dining room, meaning you may dine any time during the restaurant's opening hours and choose where, and with whom you would like to sit. There are three options for dinner. Diners can choose from a fixed seating at 6-6:30pm, (called Early or Main sitting) or at 8-8:30pm (called Second or Late sitting) at an assigned table with the same table mates and wait staff for the entire duration of the cruise. Open seating dinner is also offered to allow for flexible dining times throughout the cruise and choice of table size.
Tip: Select your dining seating based on the time you would normally have dinner at home. Early sitting typically fills up first as that is the most popular dinner hour. Open seating is a great option as you can choose to dine at different times to suit your daily itinerary.
Meals are also available in the buffet, outdoor grill, and through 24-hour room service. Although typically free, some lines have implemented a charge for room service and late night deliveries.
Specialty restaurants are another popular dinner option. These restaurants require reservations and have a cover charge, some have a la carte pricing. Specializing in premium steaks, seafood, Italian, French, or Asian cuisine, specialty restaurants are a great way to celebrate a special occasion.
Back to Top

Excursions
At every port, optional excursions are available for purchase. These escorted tours will highlight each port's special attractions, and tour duration ranges from a few hours to a full day. Once your have paid for your cruise, you can browse and pre-book excursions online, but they are also available to book once onboard.
Back to Top

Childrens' Programs
Cruise lines offer complimentary daily programs for children ages 3 and up. Ships have dedicated space where children are divided into separate age groups and participate in age-appropriate games and activities led by professional youth counsellors. Children must be toilet-trained to participate in the programs. Some lines also offer nurseries for infants, and babysitting services at an extra charge. Tweens and teens also have their own space and daily programs.
Back to Top

Entertainment & Activities
A myriad of entertainment and activities are planned throughout each voyage, and are listed in the ship's daily program which is delivered each night to your stateroom. Participation in completely optional, guests may choose to do as much, or as little as they wish.
Back to Top

Tipping
Except on all inclusive luxury cruises, tipping is not included in the fare. Averaging US$15 per person per day, tips are added to the guest's onboard account. A 15 percent gratuity will automatically be added to all purchased beverages, and some spas also automatically add a gratuity to services.
Back to Top

Staying Connected
All ships offer computer stations and wi-fi services. Internet packages are available for purchase, ranging from per minute to unlimited usage. Cel phone services may be available in certain areas. Expect spotty or no service when ships are crossing large bodies of open water or are sailing in remote regions.
Back to Top

Cashless Spending
Ships operate on a cashless basis, all purchases made onboard are charge to your room and settled at the end of the cruise with a credit card or by cash.
Back to Top

Disembarkation Day
To prepare for disembarkation, guests are asked to pack and leave large suitcases outside stateroom doors on the last evening, and vacate the stateroom by 8am the next day. Disembarkation will begin as soon as the ship has been cleared by local authorities. If booking a flight departing on disembarkation day, check with the cruise line regarding departing flight time parameters.
Back to Top