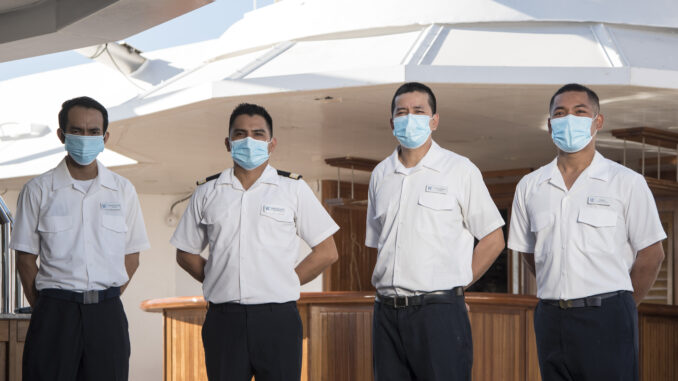 The CDC's Framework for Conditional Sailing Order is a positive sign for cruise ships to resume operations, and we will most likely see ships sailing out of American ports in spring 2021. But one thing is for certain: cruising during the COVID era will be very different from what we used to know.
A limited restart in Europe this summer saw several ships successfully sail with a reduced capacity and enhanced safety measures. At the Seatrade Virtual Conference, German brand TUI Cruises presented a step-by-step process of their shipboard and shoreside operations, allowing us to glean some insight into what might be in store for North America.
As the pandemic situation is ever-changing, the procedures and protocols will also evolve as required, so what is described below is by no means written in stone. But for now, these procedures will likely be followed by American-based vessels.
At the cruise terminal
To lessen congestion, a staggered check-in process will be in place, where guests are assigned a specific time frame to arrive at the terminal.
All arriving guests will be required to sanitize their hands, wear a face mask, and keep a social distance of 1.5 to 2 metres.
All guests will be screened before they are allowed to enter the cruise terminal. This includes producing a negative molecular diagnostic (also known as PCR) test result taken within the past 72 hours. Guests are then given a second PCR test, have their temperature taken and their completed medical questionnaire reviewed. Their test result will be available within 20 minutes.
Guests displaying symptoms or receiving a positive test will be escorted to a secondary screening room for further examination. Guests receiving a negative test result will be directed to enter the cruise terminal to check-in. All baggage will be sanitized before being brought onboard the ship.
At Check-In
Advanced guest registration and online check-in will now be mandatory, there will no longer be an option for guests to complete the registration process at the pier.
Onboard
Muster drills will be performed without the need to congregate in lounges or on deck. Embarking guests will either be escorted directly to their muster station to review safety procedures or may be instructed to watch the safety video in their stateroom and then report to their muster station to complete the drill.
Social distancing, mask-wearing, and hand-washing/sanitizing will be enforced throughout the voyage. All dining venues including previously self-served food and beverage stations will offer waiter service. All indoor and outdoor public venues will have capacity restrictions and social distancing markers. To stagger attendance at entertainment venues, production shows will see an increased number of performances.
Daily temperature checks and health monitoring procedures will be in place for all guests. Contract tracing will play a prominent role in managing any infections that may occur onboard. Before COVID, several cruise lines were already employing wearable technology and mobile apps that were designed to improve customer service. These applications can now also be used for contact tracing and efficient communication with guests.
Guests can also expect additional PCR tests during the voyage and before disembarkation at the end of the cruise.
Itineraries and destinations
Initial return to cruising will see short cruises (3 to 4 days) consisting of days at sea and visits to private destinations. Every major cruise line owns a private island (or has access to one owned by their sister company) in the Bahamas. These destinations are for the exclusive use of the ship's guests, food and beverage is brought ashore from the ship, and service is provided by the ship's crew, thus maintaining a safe bubble for all.
When cruises eventually visit ports of call, further measures will be in place to protect guests and the communities they visit. As seen in Europe this summer, guests will only be allowed to go ashore by participating in cruise line-curated excursions and must remain within the group bubble for the entire duration of the tour. Guests who violate the policy will not be allowed to reboard the ship.
Would you go on a cruise? Should you go on a cruise?
In my opinion, a cruise ship will have the most comprehensive COVID-19 safety measures - more than any other means of travel and more than our own home towns. However, despite the most stringent practices, the risk of an infection being brought onboard simply cannot be eliminated. The decision to cruise will depend on the individual's health, comfort level with travelling, and willingness to endure the required health and safety protocols before and during the voyage, as well as to face the consequences in the event of an infection. Other external factors such as government advisories, insurance coverage, and the quarantine requirements upon returning home will also play an important role.
Should you choose to cruise, remember that the responsibility for safe sailing does not fall solely on the cruise lines. You will also need to make a compulsory commitment to provide honest reporting of your health and daily well-being, unfailingly practise self-hygiene, and give full compliance in following COVID-19 protocols set forth by the ship's crew at all given times.