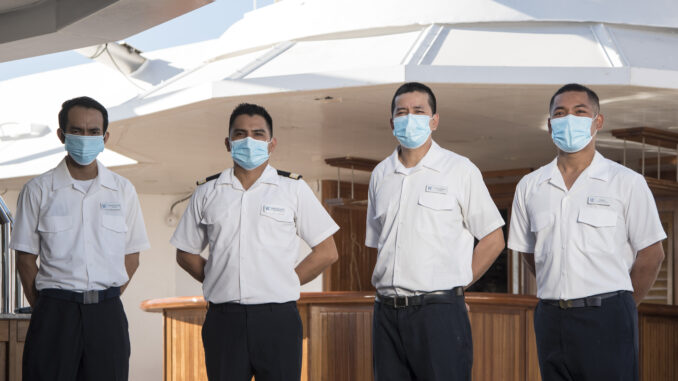 As the world slowly reopens to cruising and COVID restrictions continue to ease, you may wonder how cruising has changed since the pandemic. Let me share with you the "new normal" - keeping in mind that health protocols continue to evolve and each cruise line may make its own adjustments as required.
Embarkation is timed
Gone are the days when you can show up at the pier any time and waltz into the terminal. Arrival at the terminal is now staggered. You will be given a specific time slot to arrive for check-in, and forget about showing up early. If you do, you will be asked to wait outside - which may not have seating available or be sheltered. And if there isn't space, you may even be asked to leave the terminal.
Health protocols onboard and ashore
COVID restrictions for cruise ships have been greatly relaxed compared to last year. The most recent developments (as of July 2022)  have seen many cruise lines eliminating the need for a pre-embarkation COVID test as long as the guest is fully vaccinated. Wearing a mask onboard is also optional (although it is mandatory for all crew). Social distancing is no longer required.
The rules in port, however, are dictated by the country the ship is visiting. Some still require masks inside tour buses or at indoor venues while others do not. The cruise line will advise guests accordingly.
More touchless technology
Even before the pandemic, many cruise lines have moved towards touchless cruising by way of wearable technology. In the form of a coin-sized medallion or wristband, the electronic device opens stateroom doors, is a touchless way to charge for goods and services, and also serves as an efficient contact tracing tool.
Public areas onboard ships also have numerous touchless features such as sensors that open doors, hands-free faucets, and automatic sanitizer dispensers. The buffet on some cruise lines has returned to self-service, while others have crew members who serve food and beverages.
Some of the "little things" are on hold
Direct contact between crew and guests has been reduced. Remember how your waiter used to place your napkin on your lap after being seated in the restaurant, or the crew member escorting you to your stateroom at embarkation used to carry your hand luggage for you? They stopped doing that to reduce the number of touch points. Of course I miss these little things, but I know they will return soon.
Going home
Disembarkation testing is no longer being performed, unless the disembarkation country still requires it, in which case the test will be performed by the cruise line at no charge. Otherwise, if the country the guest is traveling to after the cruise requires a negative test result, the cruise line will administer a test at an extra charge. Remember to allocate plenty of time to travel from your ship to, and get through the airport for your flight home.

Most importantly, don't miss the boat to begin with! Read my tips on getting to the pier on time.
Bon voyage and happy cruising!