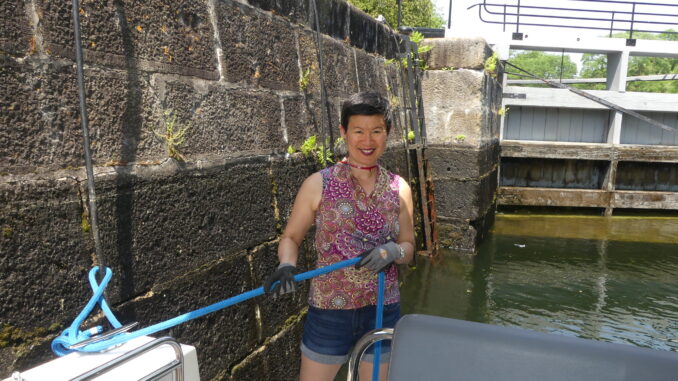 After enjoying a Le Boat charter for six nights on the Rideau Lakes, I thought I'd share my thoughts and advice for those who might be interested in trying it out. Please note these are my individual opinions and experiences and are to be used as guidelines only. I hope you will find them useful!
Basic boating terms
Bow: Front of the boat
Stern: Back of the boat
Starboard: Right side of the boat
Port: Left side of the boat
[Tip to remember which is which: the word "port" has four letters, so does "left"]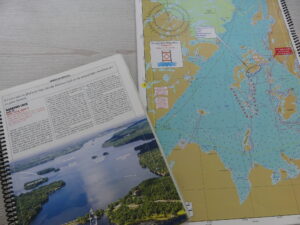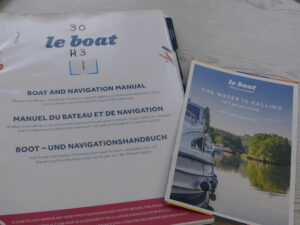 Navigating
Before your trip, designate your Captain and Co-Captain. While everyone can assist in navigating, locking, and docking, only these two individuals can legally pilot the boat. A large spiral bound nautical chartbook is provided onboard each boat, with easy-to-follow pages showing waterway channels, numbered buoys, locks and port information. Also onboard is a copy of the Rideau Canal and the Lower Ottawa River mile-by-mile guide with overhead photos of the waterways.
Le Boat also has copies of The Rideau Canal Region Guide – A complete guide to boating vacation along a Canadian UNESCO World Heritage Site, which you should pick up when you start your charter. It contains valuable information such as travel time in between locks, things to see and do, lock operation times, and a list of amenities at each moorage site.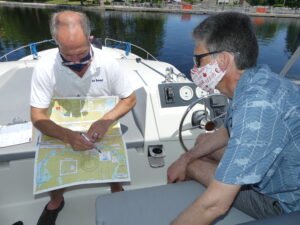 Your Base Manager will teach you how to read the nautical charts and point out important information based on your itinerary. Le Boat will provide cruising times between ports and locks to help plan your day, and recommend a downloadable GPS app which is very useful to see your exact position on the water.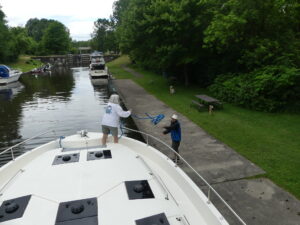 Docking
Position a crewmember at the bow and one at the stern, each holding the respective lines. When the boat is next to the dock, step off the stern and secure the stern line to the cleat, then head towards the bow to receive the bow line [which your crewmate will throw to you] and tie up. Never jump off the boat when it is still away from the dock. Wait for the boat to be abreast of the dock and step off.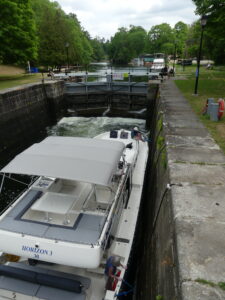 Locking
At the entrance of each lock is a blue line painted along the dock reserved for boats wanting to transit through. If the lock is open, Parks Canada staff may guide you straight into the lock. If not, tie up and wait at the blue line. When instructed, enter the lock chamber, loop the bow and stern lines around the wall cables and wait for the lock to fill or empty. Once the gates reopen, unloop your lines, and motor out.
Overnight moorage
A Le Boat charter includes prepaid overnight moorage at Parks Canada moorings and public docks. However, space is first-come, first-serve. It is advisable to arrive at your mooring site by mid-afternoon, otherwise, if the site is full, you will need to travel to the next mooring site which can be more than 30 minutes away. In the village of Westport, there are only two complimentary spots for Le Boat customers. Once these are taken, docking is at your own expense.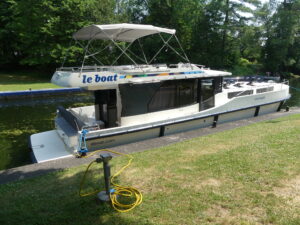 Power
While your boat is under power, it will charge the batteries that provide electricity onboard. When overnighting, it is recommended that you plug into shore power. The cost is approximately CAD$10 and is collected by Parks Canada. Credit cards and cash are accepted. Not all Parks Canada mooring sites have power, check the Rideau Canal guide and plan accordingly.
Black water pump-out
Sewage or black water is stored in a holding tank on your boat. Your boat has a black water gauge which you should keep an eye on, especially if you are traveling with a large group or have a longer charter period. Le Boat will advise the locations of private marinas on your route that provide pump-out service. You are responsible for the cost of the pump-out.
Water
The water out of your boat's tap is potable, although you may bring jugs of spring water if you choose. Keep an eye on the water gauge and refill if necessary. Freshwater is available at all Parks Canada mooring sites without charge.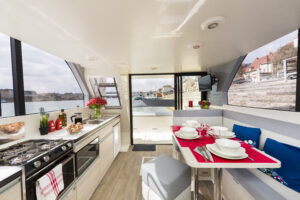 Onboard amenities
Your boat has all the glassware, dishware, cookware, and utensils for homemade meals. Cleaning supplies, dish towels, and dish soap are also provided. Depending on the boat size, fridges may be bar-sized or apartment-sized. A gas stove, oven, microwave, and BBQ hotplate are provided.
A coffee maker and toaster are available by request. All bed linens and towels are provided but bath soap and shampoo are not.
For your convenience,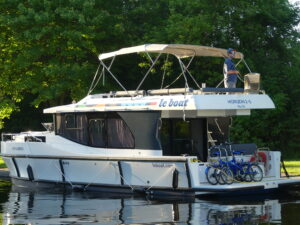 Le Boat also offers a grocery stocking service. Bicycles, kayaks, and stand-up paddleboards are also available for rent.
Dining out
Due to COVID-19 measures, most restaurants and pubs on the Rideau Lakes are offering take-out or delivery only when we visited at the end of June.  The Galley Restaurant in Portland and Scheuremann Winery in Westport have patio dining. CC's on the Rideau at Rideau Ferry offers a take-out menu and has set up tented picnic tables on the waterfront, steps from the public docks where your boat is moored. Westport Brewing at the waterfront also has a patio and beer tent area.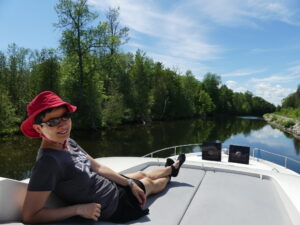 If you have any questions about my experience, please drop me a comment below, I'd be happy to answer!
ENJOY YOUR CRUISE!