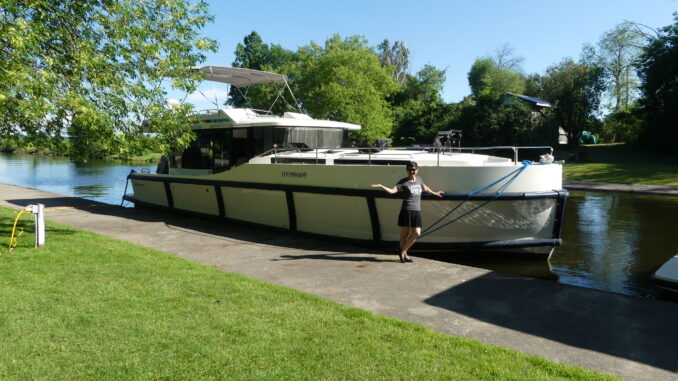 No one will dispute that 2020 is a year out of our worst nightmare. As we are slowly emerging from lockdown, if you're like me, you are chomping at the bits for a getaway after spending months cooped up at home.
I've been cruising for almost 30 years, and nothing pained me more than seeing my beloved cruise ships laid up and sailings canceled due to COVID-19. With borders closed and international travel being limited, my hopes of being on the water this year would surely be dashed.
Until an email from Le Boat landed in my inbox.
I remember reading about Le Boat two years ago when they launched operations in Canada's Rideau Canal. With modern and fully-equipped cruisers that sleep as many as 12, Le Boat promises a relaxing self-drive boating vacation for couples, families, and groups of friends, something they had perfected in Europe for fifty years.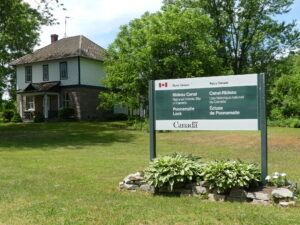 When Parks Canada opened the Rideau Canal on June 1st, Le Boat also launched its 2020 charter season. With out-of-country travel being a write-off this summer, Le Boat as a staycation option is not only logical but appealing. Sure I could rent a cottage or go camping, but frankly, after being housebound for three months, the last thing I wanted is to stay in another house, or share bathroom facilities at a campground.
So, two weeks after receiving that fateful email, I found myself heading to Smiths Falls to embark on my personal mini cruise ship.
No boating license required
First off, let me clarify what everyone does not believe to be true. Here's the thing - you only need a boating license if you own the boat you are driving. Chartering a Le Boat is like renting a houseboat or a speedboat. No license required.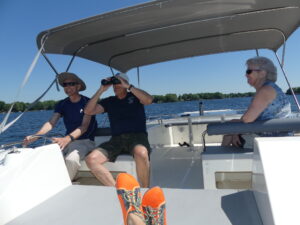 No boating experience required... Really?
This was my biggest and most legitimate concern. How can someone drive a 35+ foot cabin cruiser on open water, casting off, navigating, and docking, without having done it before? Le Boat says it can be done, but I was skeptical.
A few days before our trip, I received an email with links to a safety video and additional how-to instructions for our party to watch. A lot of common sense stuff - like don't jump from the boat to shore too soon (you'll be amazed at how often people do and end up in the water), no open alcohol while the boat is under operation, etc.
On a sunny and hot June morning, we boarded our premier Horizon 3 cruiser. At 44 feet, its white body is wrapped in black bumpers along the edges and down the sides. Le Boat is certainly prepared for novice boaters!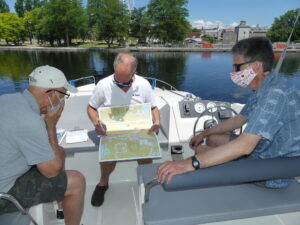 We were met by Base Manager Sandy who walked us through everything about our boat and its operation. To be honest, it was daunting. From reading the gauges and engaging the throttles, to lighting the stove and refilling the water tank, there was a lot to remember. It helped that our entire party attended the demo so that if one person forgets how something works, it's a good bet that someone else will remember. And should senior moments hit us all at once, everything was also documented in a photo-filled operations manual in the drawer along with our safety equipment and nautical charts.
Sandy taught and watched us do several maneuvers in Smiths Falls' harbour - pulling out, steering, turning, and docking, and came along with us as we transited our first lock which is located on the outskirts of town. After two thumbs up from him, we're off on our adventure!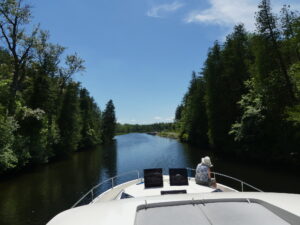 Chart your course. Find your bliss.
For the next six days, we cruised southwest, traversing through the scenic Rideau Lakes. Having our own boat gave us the freedom to plan our agenda, safely enveloped in our family bubble. Each day, we cruised past idyllic islands and shorelines dotted with summer homes - from rustic wooden cabins to expansive mansions with manicured grounds.
We passed many other Le Boats on the water, easily spottable by the telltale black bumper rims and grey bimini tops. Enthusiastic waves were exchanged, each of us proud to be at the helm of our private hideaway. Wherever we moored, passersby admired our boat and peppered us with questions about its handling and what's onboard.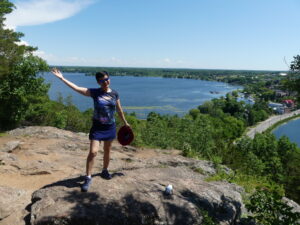 Our blissful week included a scenic hike in Westport, a refreshing swim in Portland, chatting with new friends campfire-side, and sipping gin & tonics under a giant maple tree. Each evening, we were soothed by the delightful chirping of robins and red-winged blackbirds, and the unmistakable calls of the common loons. Barbecued hamburgers, heaping coleslaw, and a glass of wine (ok a few) have never tasted so good. All simple pleasures that
a few months ago were so ho-hum, but now completely amplified knowing we have found some form of respite in our world of chaos.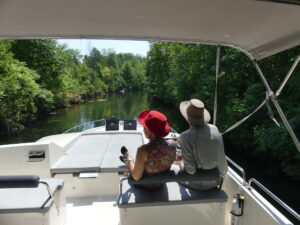 Verdict: No boating experience required... Really!
At the end of our journey, my concerns were dismissed. Was the boat easy to drive? Yes - once you got used to its handling. Judging the boat's reaction time was probably the trickiest - knowing how much to turn the wheel and when to turn it back so not to over-steering was the key. But just like driving a car or any other piece of machinery, once you figure out
how it handles, you will be in control. As each day progresses, so will your confidence in docking, turning, and maneuvering.
Other than driving the boat, I thought passing through the locks would be challenging since there are so many moving parts in play. But I was once again proven wrong. Once our boat is inside the lock, I looped the stern line around a cable along the lock wall, while my crewmate did the same at the bow. Then we waited as the lock filled (or emptied), and once the gates are opened and we've been given
the Go signal, we released our lines
from the cables and motored out. Every lock works the same way, so after the first lock, we were pros.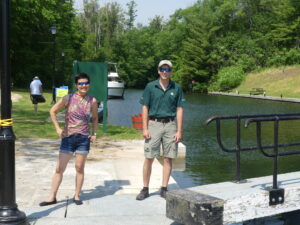 Of course, locking was also made easy by the Parks Canada staff who were rock stars! The lockmasters and their crew were super-friendly and always ready to lend a hand. Many came to greet us as soon as we approached, and guided us through effortlessly. The guys and gals were a chatty bunch and were quick to offer up ideas on places to see and things to do along the way.

Get out there and find your peace
It's hard to say when, or if, our lives will ever return to what we used to know and take for granted. With our travel wings clipped for the time being, at least staycations are a way for us to salvage our sanity. Le Boat was just the perfect pick-me-up that I needed. Yours awaits!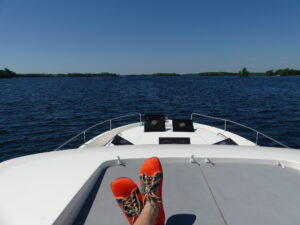 Tips for a successful Le Boat experience
All Le Boat charters begin at Smiths Falls, Ontario, approximately four hours' drive from Toronto or one hour from Ottawa. VIA Rail also provides daily service from either city. Here are a few tips from my own experience to help you get the best out of your Le Boat holiday.
DO ask about the specific amenities on your boat, especially if you plan to prepare most of your meals. A full kitchen with utensils and dishware is supplied, but extras such as coffee makers, toasters, and plug-in coolers must be requested in advance. Verify the size of the fridge on your boat and pack accordingly.
DO wear lots of sunscreen, a hat, and polarized sunglasses. Depending on your direction of travel and time of day, the captain and co-captain may be entirely in the sun.
DON'T try to do too much in a day. Plan on 3-4 hours of cruising plus locking time. And be mindful of the distance you are traveling as you need to return to base in time. Le Boat will provide itinerary suggestions based on your charter period.
DO travel with at least three persons in your party. This is my personal opinion... Although boats can be safely operated by two people, having a third person makes it easier for locking and tying up the bow and stern lines. Otherwise, the second person will need to do everything as the captain must always remain at the helm. Plus, having another two or three traveling companions makes it even more fun!
DO book your Le Boat vacation early as there will be more people looking for staycations this year. The 2020 season will operate until October 12th. Contact your professional travel advisor to help you plan and reserve your trip.
For more information, read my How to Le Boat article, and watch my Le Boat video.
BON VOYAGE!