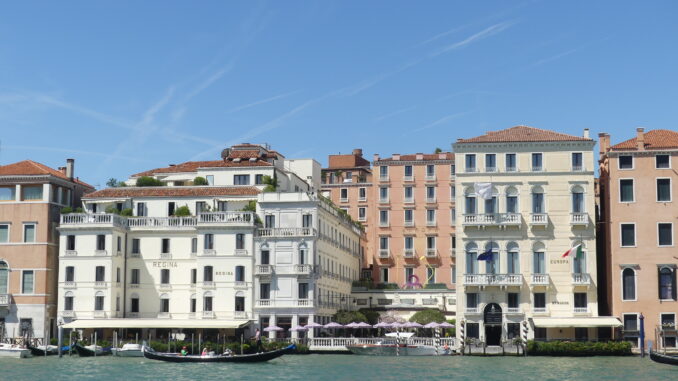 Visiting Venice on any given day is pure pleasure, but when it includes a stay at St. Regis Venice, the trip becomes extraordinary. With a prime location, expansive views, five-star service, and exquisite dining, St. Regis Venice is certain to make your champagne wishes come true. But more on the bubbles later.
As I lay eyes on the pale yellow and orange facades of this iconic grand dame, I knew I was in a for a treat. The buildings that St. Regis Venice occupies were constructed between the 17th and 19th centuries as grand palazzi for the powerful Tiepolo family. The complex was converted into a string of luxury hotels from the late 1800s onwards, bearing the names of Hotel Barbesi, The Grand Britannia, The Europa, and The Regina. The latter two last operated as the Westin Europa and Regina, their names still remain on the buildings' walls and are etched in the floor tiles on their streetside entrances. The property's last transformation happened in 2017, after which St. Regis Venice emerged in 2019 from an intensive renovation.
Location, location
Situated at the mouth of the Grand Canal and directly across from the imposing Basilica di Santa Maria della Salute, St. Regis Venice is one of the most sought-after addresses in town. Its prime waterfront location offers easy access, and steps from the streetside entrance are the designer shopping district, a gondola station, and Venice's star attractions - St. Mark's Square and Doge's Palace.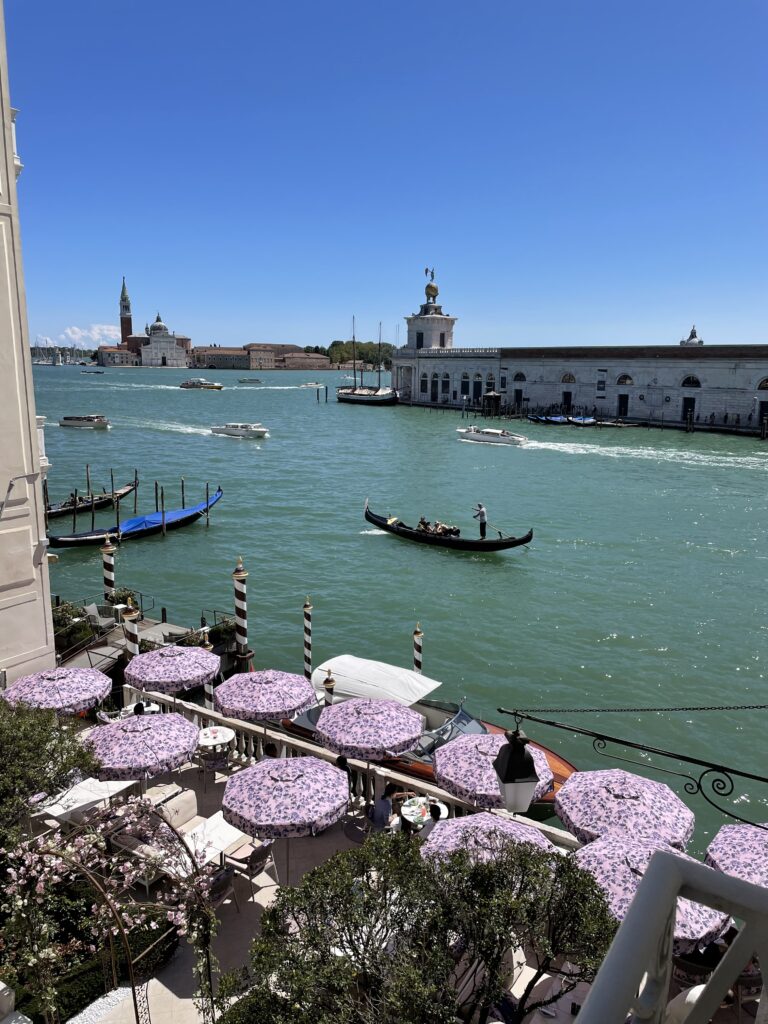 Getting there and away is possible by public transit (albeit a chore to drag your luggage across cobblestones and up and down bridges), but it's best to arrive celebrity-style in a water taxi at the hotel's private platform.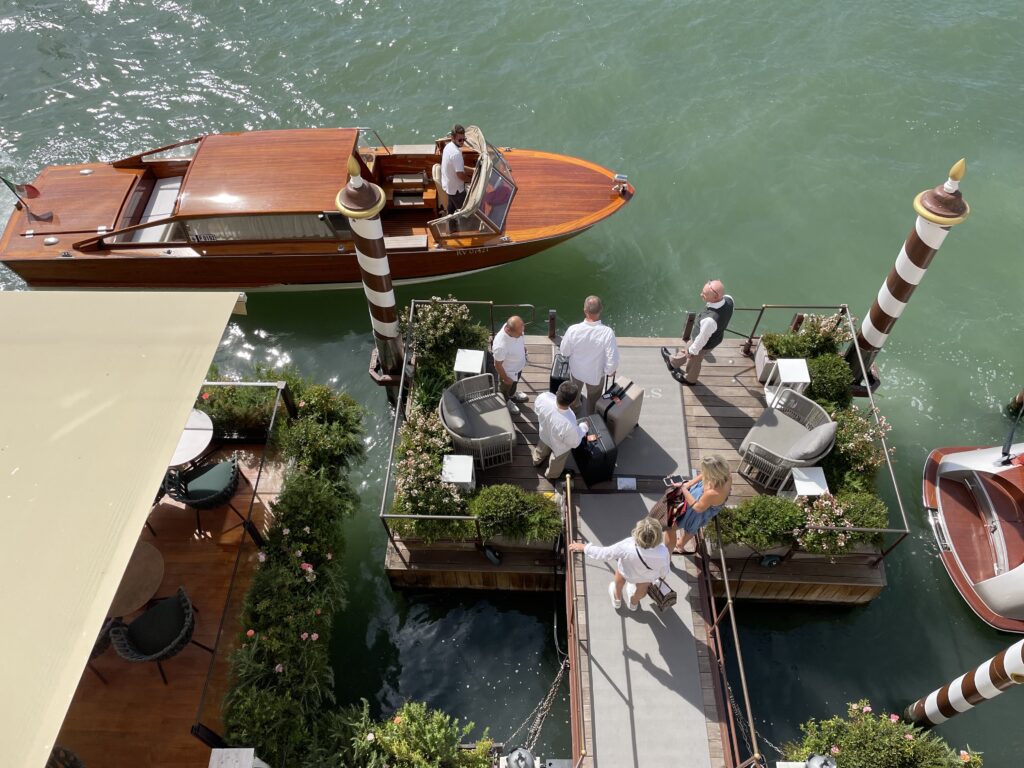 My celebrity moment begins as soon as I arrive. I'm whisked to a quiet salon where comfortable chairs and chilled beverages await. Champagne while I check in? Si, grazie! The bellman delivers my bags momentarily after I arrive in my room. 
The 130 guest rooms and 39 suites of the St. Regis Venice encompass four buildings. My spacious abode has a king bed, a sitting area, a marble bath with Aqua di Parma amenities, and two French balconies overlooking the hotel's Italianate garden and the Grand Canal. The mini bar is the splashiest I've seen (although only the water and coffee are complimentary), including Moet champagne and botanical spirits from the nearby Fruilian region.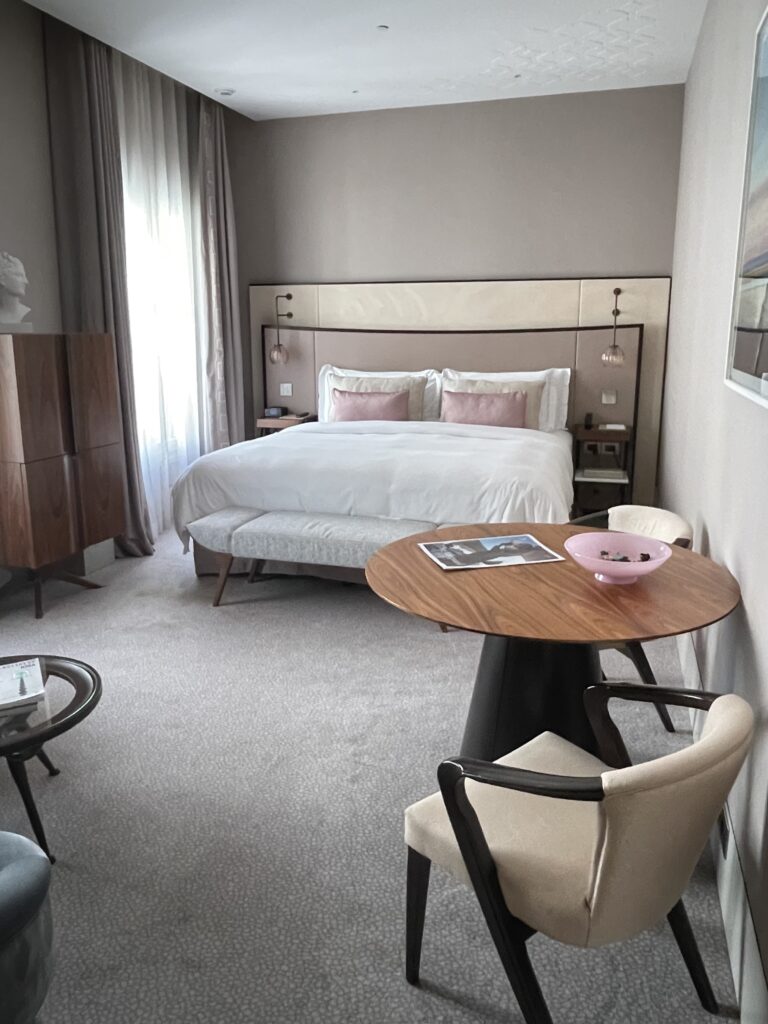 Butler service is available in every room category, and while you may not be comfortable with having a stranger unpack for you, you can certainly ask for assistance in making dinner reservations, pressing your garments, or snagging a prime table on the terrace for appertivo - Italian happy hour. 
Happy hour St. Regis-style
Now, onto those champagne wishes. At St. Regis Venice, appertivo hour is definitely kicked up a notch. Happening every evening is the champagne sabrage ceremony - a ritual held at St. Regis hotels across the globe to mark the transition from afternoon frolics to evening frivolities.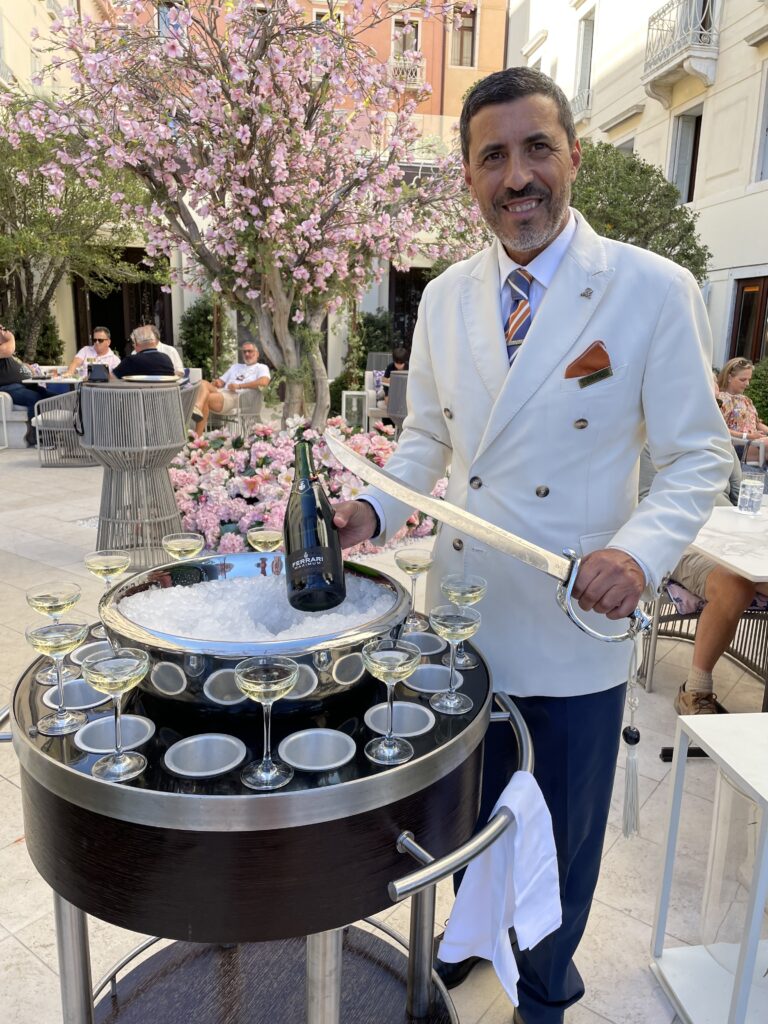 At 5:00 pm out in the Italianate garden, our Maitre D David proudly announces to all that the hour has come, and invites me to aid in the pageantry. With a bit of trepidation but calmed by David guiding me along, I slide the sharp sword along the neck of the bottle, and with one quick stroke, pop goes the cork, and whoosh comes the bubbles.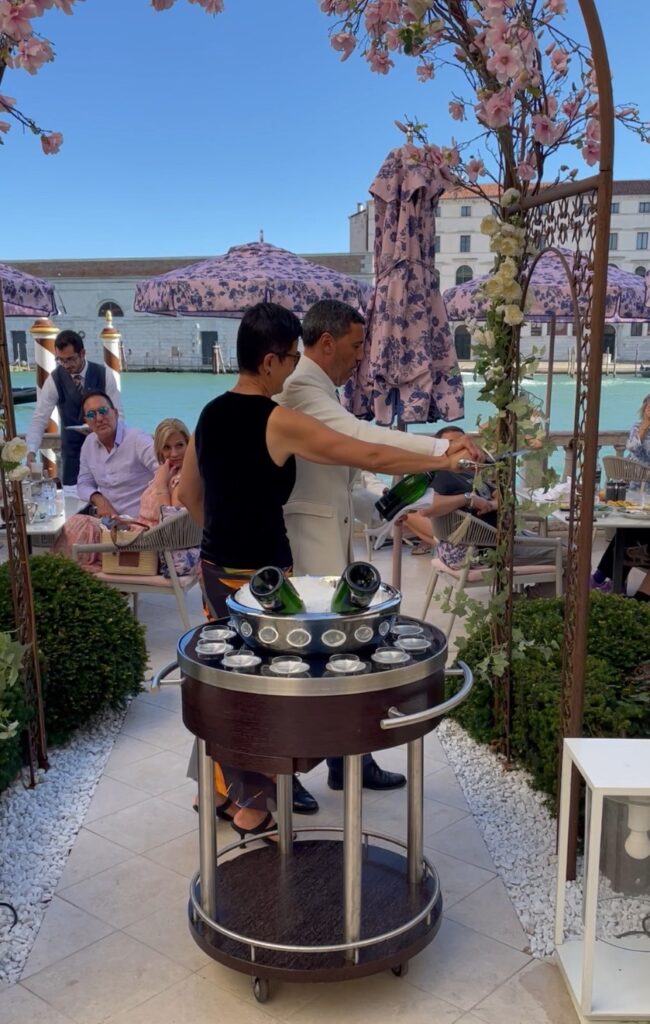 Waiters drop off a glass for everyone along with plates of Cicchetti – the ubiquitous bite-sized snacks that accompany every appertivo hour. And, of course, refills are quick and often.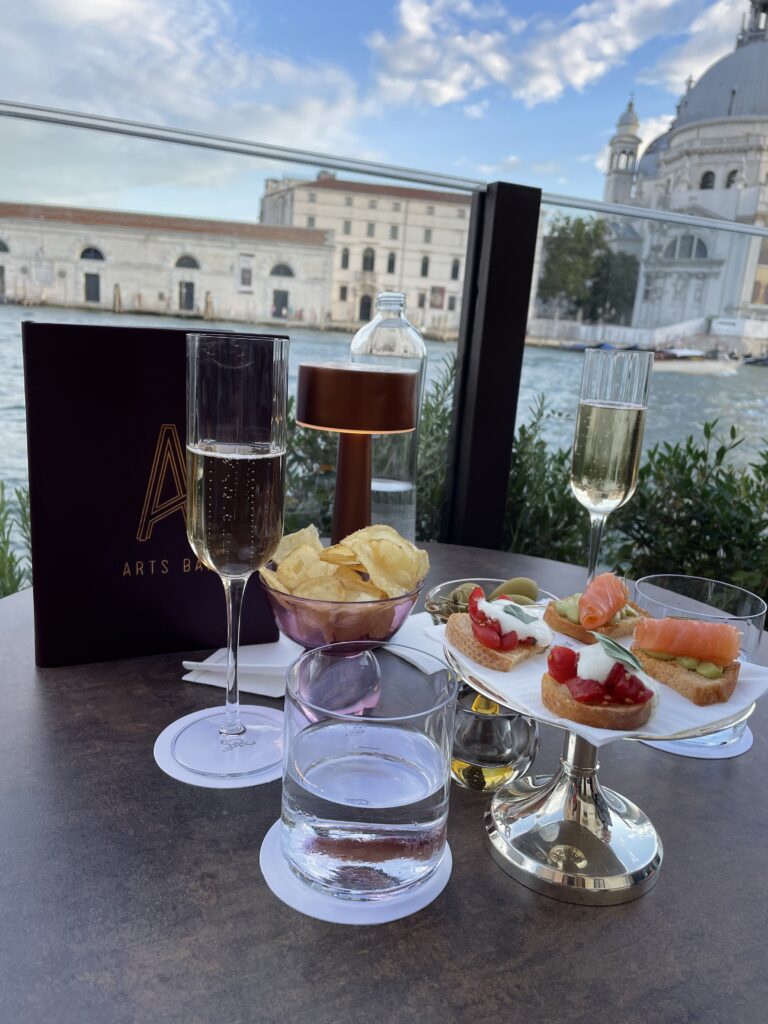 Insider Tip: The St. Regis Venice bar and Italianate garden are open to all, so even if you aren't staying here, you can still attend the ritual and make your champagne wishes come true.
Action-packed views
Watching traffic isn't exactly a fun pastime, but Venice is a different story. The water is the city's roadways where everyday life happens, and the garden terrace at St. Regis Venice gives you a front-row seat to all the action. Under pink floral sun umbrellas, I sit and listen to serenading gondoliers and watch their riders posing for selfies. Vaporettos (public water buses) zip back and forth, filled to the gills with locals and tourists. Supply barges drop off cases of wine and beer to be wheeled to trattorias, courier boats deliver packages, commercial barges pick up recycling, and water taxis weave expertly in between. It's easy to while away an hour or two over morning coffee, afternoon cocktails, or before dinner at Gio's restaurant next door.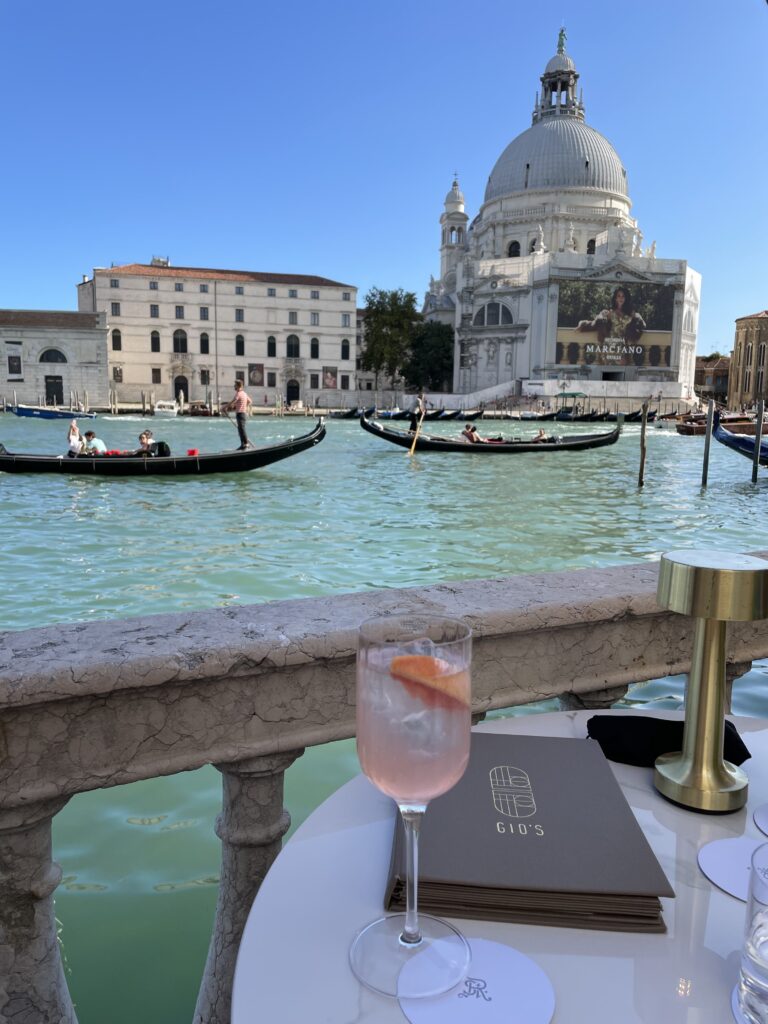 A date with culinary perfection
With more gorgeous views overlooking the Grand Canal, dining at Gio's Restaurant and Terrace is a relaxed yet elegant affair. The restaurant serves a sumptuous breakfast buffet (along with an à la carte menu) and lunch, but dinner is where Gio's shines. Romantics can reserve the most exclusive table for two in a special over-the-water alcove away from other diners. I'm told this is where wedding proposals and anniversaries are often celebrated.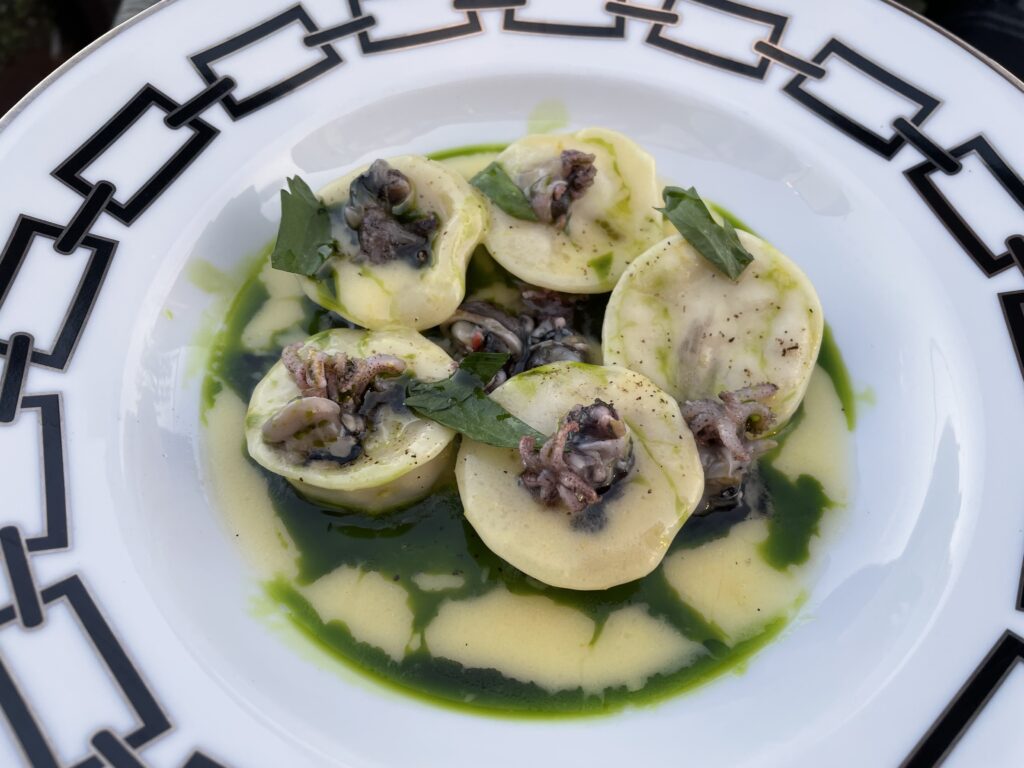 Gio's dinner menu features exquisite Italian specialties and homemade pasta, highlighting local ingredients such as lagoon sea bass, Adriatic Sea shrimp, Garronese beef, and lamb Fiorentina. Every dish - from the artisan bread and amuse-bouche to the creamiest tiramisu I have ever tasted - is meticulously plated and presented on Ginori 1735 porcelain. The accompanying wine list is impressive, with vintages from 13 Italian wine regions, stretching from the northern Friuli-Venezia-Guilia down to Sicily and Sardinia. International wines are also available, but you are in Italy: go local!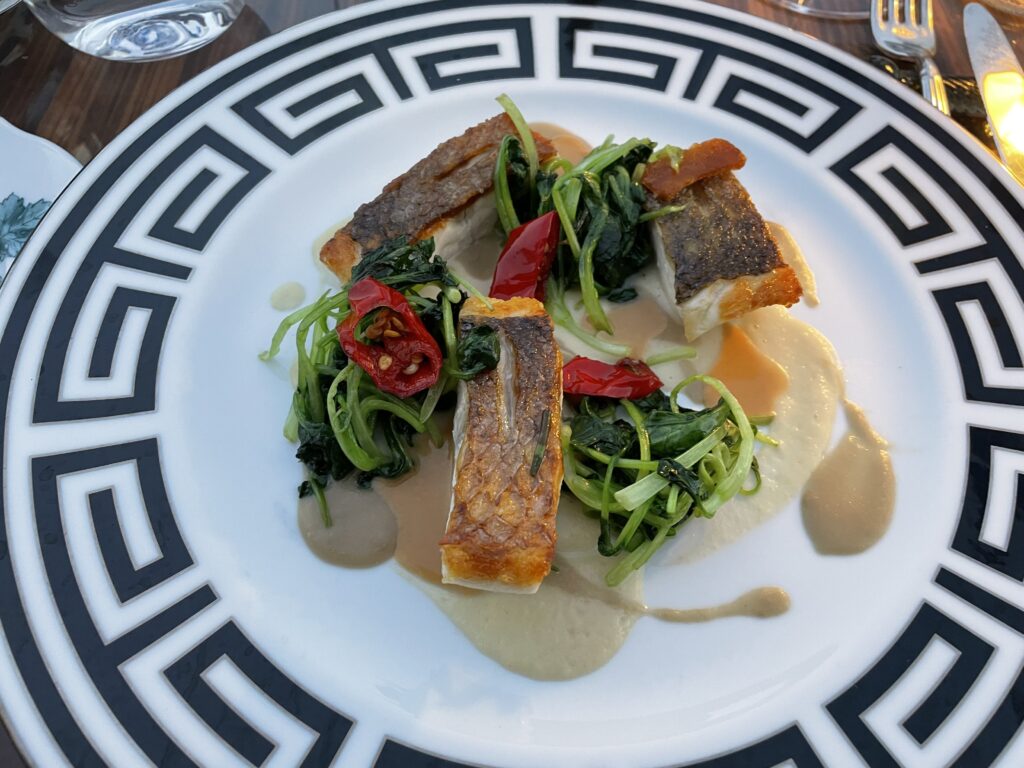 Art to behold and hold
The relationship between art and St. Regis Venice began when the hotel was the Grand Hotel Britannia, hosting painters such as J.M.W. Turner, John Singer Sargent, and Claude Monet. Monet was so taken by the spectacular views that he stayed for two months in 1908 and produced 37 canvases featuring scenes of the Grand Canal. In honouring the artist, a suite in St. Regis Venice bears his name, decorated in the soft hues of the impressionistic palette and offering the same views that inspired the masterpieces.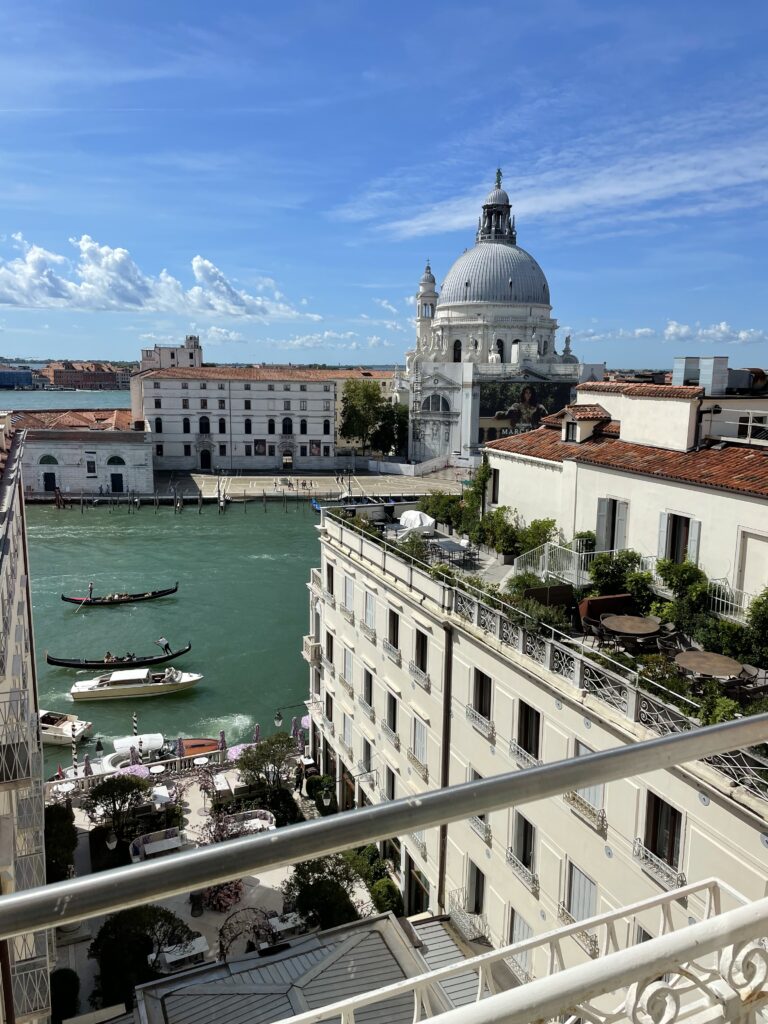 Today St. Regis Venice has found additional ways to infuse art into their guests' stay by partnering with international as well as Venetian artists. In the Gran Salone just past reception hangs a large glass chandelier by artist/activist Ai Weiwei in collaboration with Berengo Studio of Murano. The stunning White Chandelier resembles a lacy mass of twisty vines caught in a deep frost, but close examination reveals several elements from the outspoken artist's past.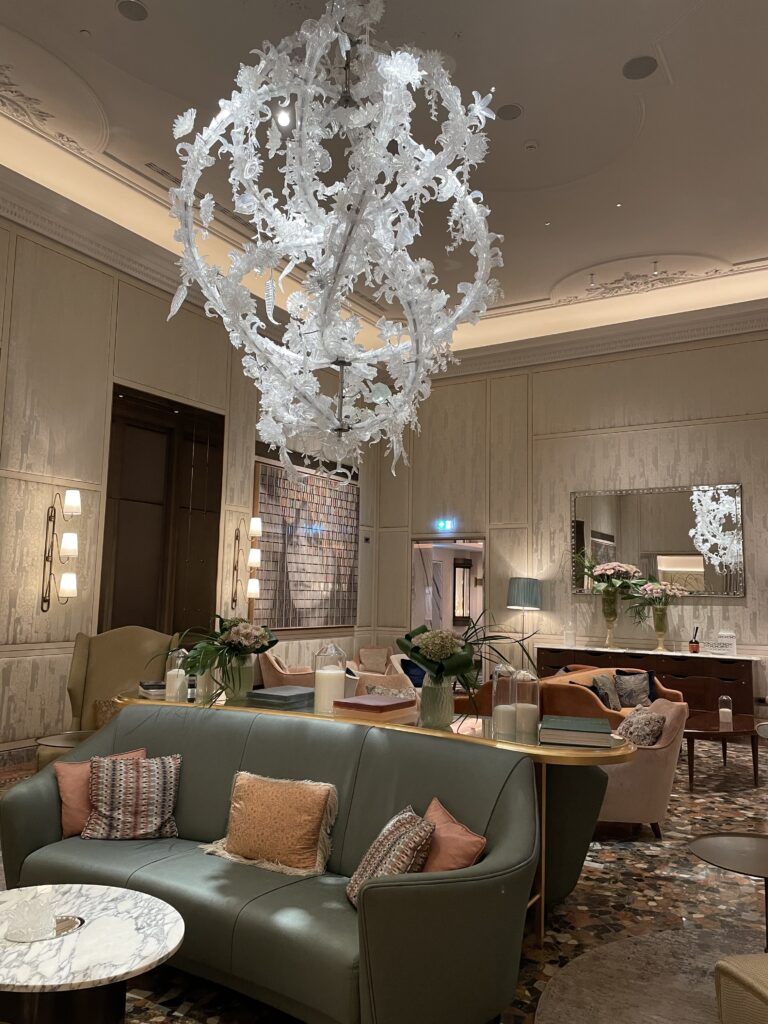 On the walls of the same room is German artist Gregor Hildebrandt's The Four Seasons, a collage made out of cassette tapes depicting four Hollywood actresses.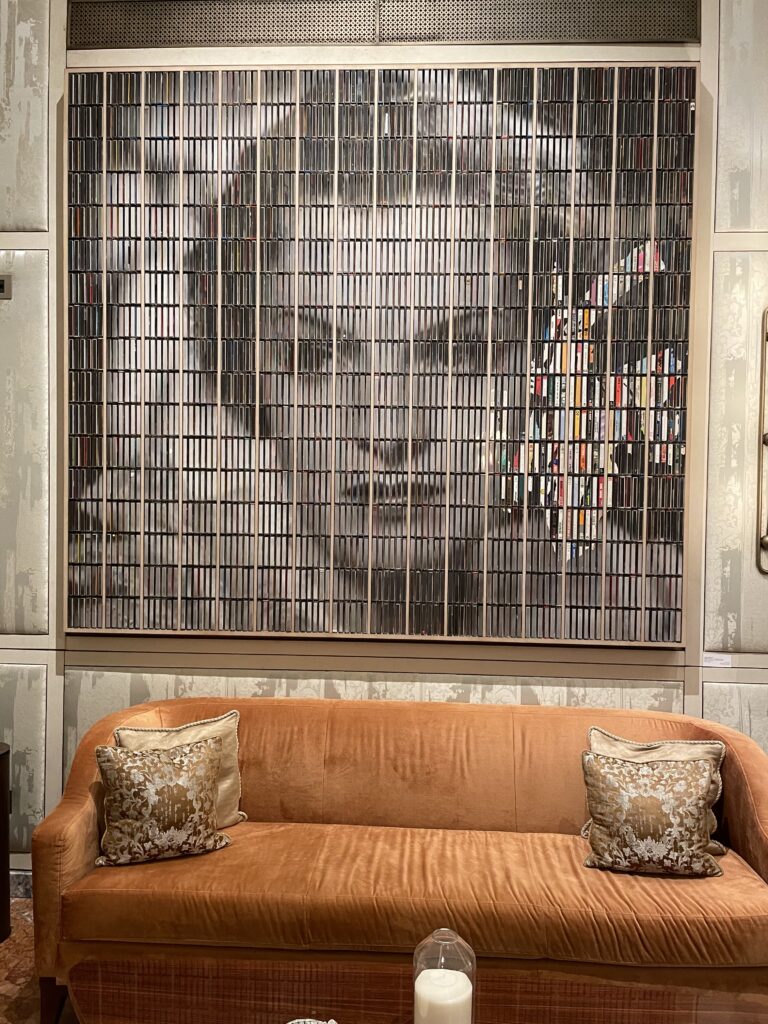 Many other thought-provoking art pieces grace the hotel hallways, but most cleverly, St. Regis Venice has found a way to bring art into my hand - in the form of intricate Murano glassware at The Arts Bar. Designed and created by Berengo Studio, each glass was made to match a cocktail that pays tribute to an artist with a connection to Venice - from Salvador Dali to Banksy and, of course, Ai Weiwei. And each drink tells a story inspired by a particular artwork made by the artist.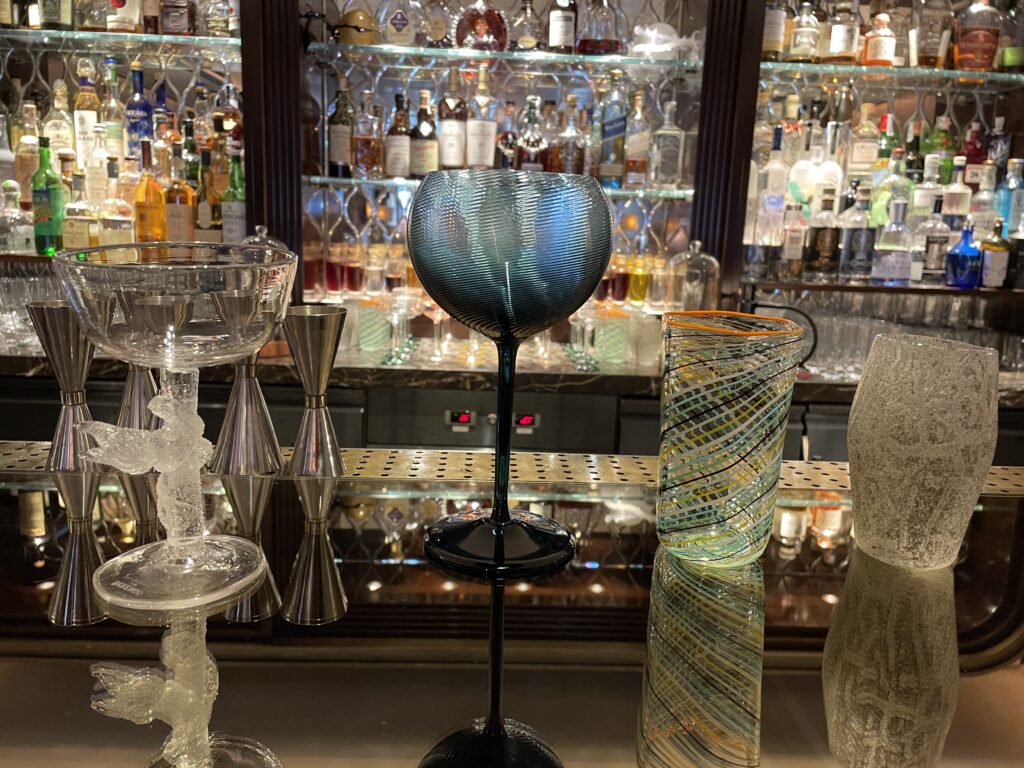 Of course, I pay my respects to Ai Weiwei and order the AW Vision. Baiju - China's national spirit (which translates to white spirit, an appropriate colour reference to White Chandelier) - is blended with sunflower oil, pineapple, black pepper bush, and Select - Venice's answer to Aperol. The resulting red colour symbolizes the flag of the Chinese artist's home country.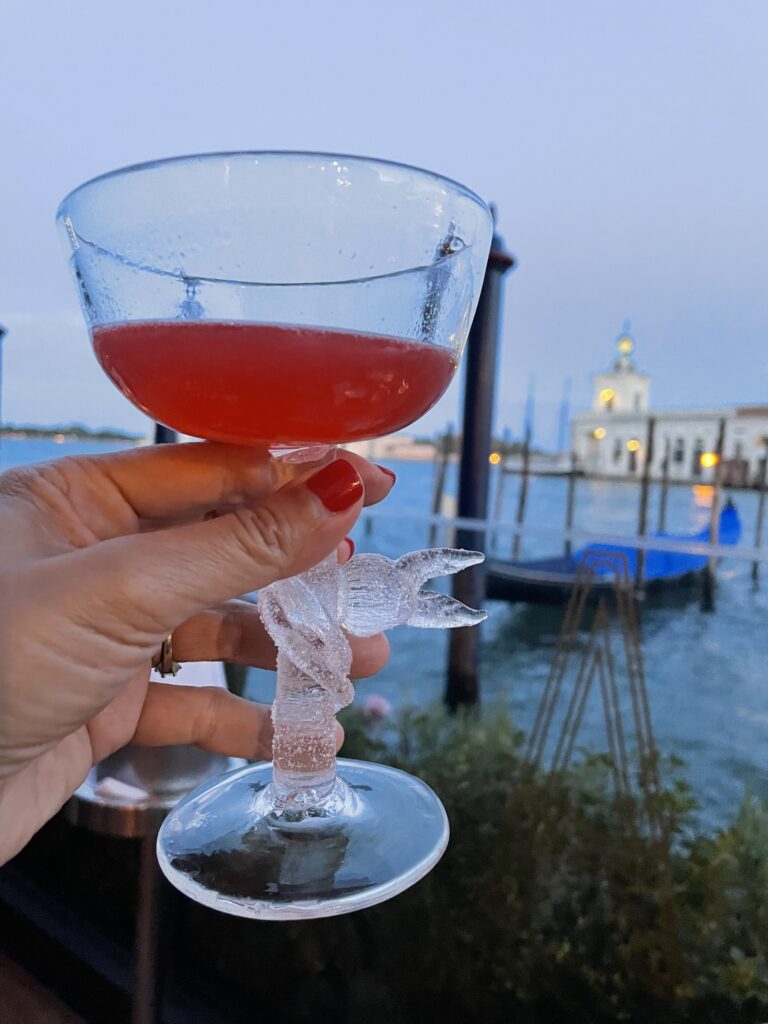 The cocktail arrives in a bowl-shaped glass with a frosty stem wrapped with a protruding crab claw, a motif from Ai's chandelier. It goes down easy, and I'm given a keepsake booklet filled with design sketches made by the Berengo Studio artists who crafted the glass. During my conversation with the barman, I learn that St. Regis Venice can arrange a tour of Berengo Studio on Murano Island for guests interested in learning more about glassmaking. It's a shame my short stay did not allow an outing. Next time!
As I wave arrivederci to the St. Regis Venice crew from my water taxi, I thank them for their five-star hospitality and for making me feel like a celebrity, even for a brief moment. One thing's for sure - the next time I find myself with champagne wishes, I'll know exactly where I can go to make them come true.