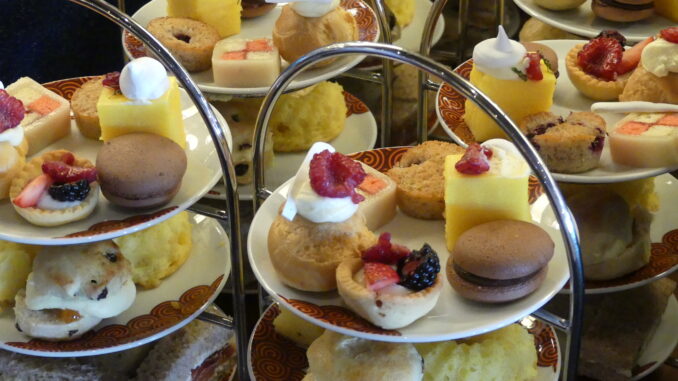 Ahhhh desserts.... my biggest weakness - and I'm sure I am not alone in this debilitating dilemma. Many people crave salt and savoury, but I fall into the other category of craving sweets.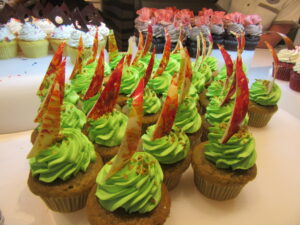 Desserts are always a given on a cruise ship menu. At every dinner, there are at least 4 or 5 to choose from, plus an assortment of ice creams and sorbets. At the lunch buffet and daily afternoon tea, your willpower is given a true test as you peruse the display cases and trolleys full of sinful temptations.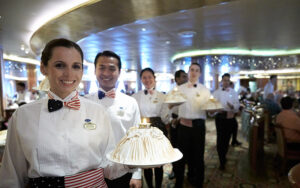 And once on every cruise, the ubiquitous Baked Alaska would make an appearance usually on the final formal night, complete with a parade of the galley's chefs and crew, each proudly holding the meringue-covered ice cream cakes topped with flaming sparklers while diners cheer on. This is one of the signature moments of every cruise.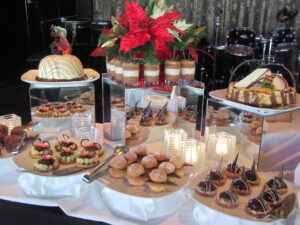 But for true chocolate lovers, there is the chocoholic buffet. My first experience was actually onboard Norwegian Cruise Line's the S.S. Norway. Back in 1994, they were the first cruise line to debut this indulgence as an afternoon tea event. It was my dream come true, to be surrounded by incredible creations that not only delighted my senses but also caused a slight panic - how do I have a taste of everything without going into a chocolate coma?
Well, it's impossible. It helps if you are traveling with someone so you can at least split each piece and by doing so, you get to try more items. And strong black coffee helps to wash it all down - but you better be prepared for a caffeine high that will last the rest of your day.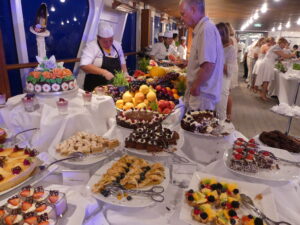 Back in the early 90s as a new cruise passenger, I practised the "seefood" diet - I see food, I eat it. I don't know who said it, but I remember hearing the statistic that you gain a pound a day while at sea. And that the sea air shrinks your clothes - so wear your tightest outfits first.
Well, I definitely learned that both are true. But as I got older and wiser, I learned not to overdo it anymore. I still take photos of all the beautiful desserts, and I will indulge here and there, but I am very mindful of what I consume, plus I gotta leave it for the new cruisers!
I recently came across a piece of advice on how to control sugar intake: Don't eat sweets early in the day, as that will lead you to crave more throughout the afternoon. Eat dessert with dinner, and you have all evening to get the sugar out of your system. Maybe we can all try that on our next cruise, and come back to compare notes?